Follow us on Facebook
625 Pennsylvania Avenue
San Diego, California 92103
619.298.7729

For Directions and Parking click here.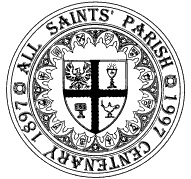 Follow us on Facebook
Webpage: www.facebook.com/allsaintssandiego
All Saints' Pre-School
Webpage: sdallsaints.com
Episcopal Church
Web page: www.episcopalchurch.org
Episcopal Diocese of San Diego
Web page: www.edsd.org
The Shrine of Our Lady of Walsingham
Web page: www.walsinghamanglican.org.uk
Fr. Tony's, our Rector Emeritus,
personal web page at:Frtonynoble.org.
Bethlehem Handicrafts has presented their wares on our Patio.
Visit their web page at bethlehemhandcrafts.org
Food for the Poor
Food for the Poor is an international relief and development organization whose mission is "to link the church of the First World with the church of the Third World in a manner that helps both the materially poor and the poor in spirit."
For more information on the work done by Food for the Poor, please visit their website at www.foodforthepoor.org.
Links for Prayer and Readings

Calendar of Feast Days and Saints
Web page: satucket.com/lectionary/Calendar.htm

Daily Office
Web page: https://www.bookofcommonprayer.net/#/daily_office/list
Also a good link for the Book of Common Prayer.

Lectionary Readings
Web page: www.lectionarypage.net/CalndrsIndexes/TxtindexBCP.html
Good link for Sunday Readers.