Follow us on Facebook
625 Pennsylvania Avenue
San Diego, California 92103
619.298.7729

For Directions and Parking click here.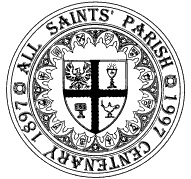 Sundays - Low Mass 8:00am; Solemn Mass 10:30am
Adult Christian Formation 9:20am Sunday School 10:30am
Child Care at 8:00am and 10:30am Services





This Sunday and Beyond
The Sunday and Beyond includes Father McQueen's reflection on the Sunday readings, the calendar and upcoming events
Visit Father McQueen's Sunday reflections Blog

Sunday's Solemn Mass bulletin, in PDF format.
7-24-2016-PENTECOST X (Proper 12) SOLEMN MASS BULLETIN YR-C.pdf

Last Sunday's Solemn Mass bulletin, in PDF format.
7-17-2016-PENTECOST IX (Proper 11) SOLEMN MASS BULLETIN YR-C.pdf



---

---

From the All Saints' Concert Series - June 2016
St. Petersburg Men's Ensemble (Russian)



See the video also.
Photos by John Gray III




---




CHRISTIAN FORMATION


This Sunday, June 12th, Christian Formation resumes with a course based on the spiritual classic The Fulfillment of All Desire (FAD) by Dr. Ralph Martin. Dr. Martin is a cradle Roman Catholic author and professor who has also been a leader in the charismatic renewal of Catholic Church for decades, beginning in the Cursillo Movement and now as the president of Renewal Ministries. Over the course of his graduate study and teaching in universities and seminaries, Dr. Martin fell in love with the great masters of Catholic spirituality and led him to write FAD. Books are available for purchase.





Report Misconduct

As part of our ongoing commitment to creating a safe haven for everyone, our diocese trains people in the prevention of misconduct and encourages all to report misconduct. All reported incidences are taken seriously and investigated thoroughly and confidentially. If you believe you have experienced misconduct of any kind, please contact Mr. John Seitman, jseitman@pacbell.net, 858-793-4555 or the Rev. Janet Wheelock, jwheelock@edsd.org, 952-240-8067.
For more information on Safeguarding Gods People, visit the Diocesan web site at:http://edsd.org/equipping-leaders/safeguarding





Camp Stevens Summer Camping for Teens
Learn more at www.campstevens.org/teens
See PDF for more information!

Wilderness Trips with Camp Stevens : You never know what you're capable of until you've been on a Wilderness Trip!Week long trips start July 10 and July 24
Climb to New Heights: Join Camp Stevens on a rock climbing adventure in Big Bear July 10 – 15, and find out what you're made of!
Make Your Own Trail: Join Camp Stevens on a Backpacking Wilderness Trip July 24 – 29 to push yourself beyond what you thought possible!
Get Ready for the Best Summer Ever!Camp Stevens offers wilderness adventure trips in Big Bear and the eastern Sierra Nevada Mountains. Week long trips start July 10 and July 24.
Hey Teens! Do you plan to spend summer lounging around in pajamas scrolling through your social media feed? Boring! We dare you to live a little. The stars are brighter when you're sleeping underneath them. The food is tastier when you cook it back-country style. The sunset is more vibrant than you ever imagined when you hike a mountain to see it. The summer is better when you unplug and engage with the world around you. Stop reading about awesome adventures, and start living them. Camp Stevens: Adventure Awaits.

Learn more at www.campstevens.org/teens






SUMMER BLESSING BAG DRIVE


A thank you to everyone for participating in our blessing bag event on Trinity Sunday!
Our next Blessing Bag event will be held in the fall. In the meantime the Social Action Committee will be filling smaller blessing bags for distribution over the summer months. We are especially in need of the following travel-sized items: deodorant, soap, shampoo, lotion and Kleenex. If you would like to help set-up for our next event, please let any of us on the Social Action Committee know. We welcome you and your participation to help those who are less fortunate, in need and/or homeless. A confirmed date for our next Blessing Bag event will be announced over the summer by Father McQueen.

In service,
Your Social Action Committee





Trinity Sunday - May 22, 2016 pictures - Bishop's visit



Photos by John Gray III



Bach At Noon - May 4, 2016 pictures
Bach Collegium San Diego Performance in the church



Photos by John Gray III



After Service Jam - April 3, 2016 pictures
Father Schuneman plays some classic after both services in the parish hall with a George.



Photos by John Gray III



PRESCHOOL TEACHER APPRECIATION WEEK
Celebratied May 2


The All Saints' Preschool is alive with energy and happy children. As of the end of March, there were 78 students enrolled in the Preschool.

Teacher Appreciation Day this was celebrated this past Monday, May 2 at the preschool. From left to right: Renika Battles, Gayle Murken, Lucretia Locke, Rick Ochocki. People pictured are holding the See's candies given to the teachers, along with treating them to breakfast.
Photo by John Gray III





Christ The King Sunday 2015 pictures
Filling Blessing bags between the service.



Photos by John Gray III



Bach At Noon - November 4, 2015 pictures
Bach Collegium San Diego Performance in the church



Photos by John Gray III



Preschool Christmas Pageant


It was an amazing pageant. Fr. Sanders and the preschoolers brought down the house. Thank you to all the teachers and parents. It's always a fun way to celebrate the Christmas Spirit.





All Saints' Day Patronal Feast Brunch pictures

It was a festive day celebrating our feast day Mass and setting down to a catered brunch honoring Barbara Wilder, Kay Phillips, Rick Ochocki, and George Dreyer for their service to the church.


Photos by John Gray III



Grossmont Master Choir October 18th 2015 pictures




Photos by John Gray III



ALL SAINTS' PRAYER CHAIN

We, at All Saints' Parish, have a long time tradition in our prayer chain. We feel that as we pray together and pass on our thoughts and prayers to God we deepen our relationship , not only with God, but with ourselves as his servants and parishioners. Please join us in keeping this time honored tradition continuing to help others see God and seek his help and blessings as we do. Call Lynette Blakney (call the office for her number.)

Prayer: The world's greatest wireless connection.





Sunday Morning Childcare

We are excited to announce that our nursery is now being staffed through Panda's Domestic Referral Agency, which provides childcare for many churches in San Diego. All sitters are childcare professionals that have undergone a national background check and are Infant and Child CPR Certified.





Special Offering on Second Sunday's loose plate

The loose plate collection on the Second Sunday of each month goes to the service of our community through the Parish Pastoral Needs Fund. Your generous contributions help us to serve members of All Saints' in need and our less fortunate neighbors as Christ serves us. Thank you for your continued help with this vital ministry.





All Saints' Action Committee Presents:

All Saints' Reading Group
Share your love of reading with others

Visit our neighbors at the various St. Paul's Senior Homes
Opportunities to read to residents in group and individual settings
Approximately 30 minutes per visit
Scheduling based on your availability, and the and needs of St. Paul's
6 month initial commitment
If you are interested in this exciting new way to connect with members of the community, contact: Joni Palumbo and Vanessa Brush throught the church office.




Want to be an Acolyte?

We have a pressing need for additional Acolytes in order to continue our worship in the manner to which we have all grown accustom. This is particularly true for the 10:30 Mass. If you are seeking an opportunity to serve and think that you might be interested in serving at the Altar, come by the Acolyte room before or after the service to learn what we do.

Dryscape Garden

Many thanks to Todd Muffati and Homero for spending the time and energy, in all of the recent heat, to design and plant our drought tolerant garden on the alley ramp entrance. It looks wonderful and as time goes on, we will be adding more "design features"! Our thanks also to Bill and Sue Johnston for organizing and contributing to this dryscape garden project. If anyone has a few boulders they wish to donate, Sue Johnston would be happy to take them off your hands.

Images by John Gray. click them to enlarge.




Join our E-Mail list: E-mail to: outreach@allsaintschurch.org
and put in the subject line:"ADD ME."
We will periodically send information on special events and services.