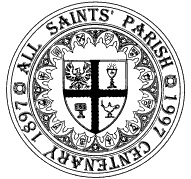 Rector:
Rev. J. D. McQueen.
Sunday Sermons

"For All The Saints" newsletter

Marian Societies
of All Saints


All Saints' Books for sale

High Mass at All Saints' Booklet

Picture Page


All Saints Pre-School web site.





"For All The Saints" Newsletter
Click here for June - July edition.




OPPORTUNITES TO SERVE:




Kristie's Foundation presents:


Saturday, August 09, 2014, 1:00pm

The 2nd Annual Del Mar Grill Fest in support of critically ill children and their families at Del Mar Race Track.

Fargo's Bar-B-Q, owned by our own Elaine Williams,

is in need of volunteers to help manage their booth at the event. Please contact Elaine at (619) 300-0735, if you would like to help. Tokens for use at the event will be $2.50 each or 5 for $10.





Eucharistic Visitor Training:

Saturday, August 09, 2014, 9:00am - 2:00pm

Bring the bread and wine made holy to those who are homebound. Attend this one-day training to learn about the history of the role, customs and canons, substituting for the clergy and much more. It is critical to the success of Eucharistic Visitors and required by the Diocese of San Diego. Lunch, refreshments and materials are included in the $15 registration fee. For more information about the content of the training, contact the Rev. Canon Brooks Mason, 619-298-7261 ext. 325.

Location:

St. Paul's Cathedral, 2728 Sixth Ave, San Diego, CA US 92103

Registration at:
http://www.edsd.org/event/613725-2014-08-09-eucharistic-visitor-training/


Please contact David Merry with any questions: (619) 298-7729 or adminsitrator@allsaintschurch.org.





CHAPEL DOCENT:

Help us to provide a secure sanctuary for all who would like a sacred space for prayer. Any days or times (mornings, afternoons & evenings) are available for those who wish to keep watch over St. Mary's Chapel while others pray. This a wonderful opportunity to enjoy the beauty of our chapel in a prayerful way. Please contact David Merry for further information: (619) 298-7729 or administrator@allsaintschurch.org.




Join our E-Mail list: E-mail to: outreach@allsaintschurch.org
and put in the subject line:"ADD ME."
We will periodically send information on special events and services.