Follow us on Facebook
625 Pennsylvania Avenue
San Diego, California 92103
619.298.7729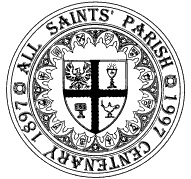 This Sunday and Beyond
Our weekly blog reflecting on the Sunday readings.
click here for a PDF of This weeks Blog



Sunday's Solemn Mass bulletin, in PDF format.


11-19-2017 TWENTY-FOURTH SUNDAY AFTER PENTECOST SOLEMN MASS BULLETIN YR-A.pdf



Last Sunday's Solemn Mass bulletin, in PDF format.


11-12-2017 TWENTY-THIRD SUNDAY AFTER PENTECOST SOLEMN MASS BULLETIN YR-A.pdf



---

Guest Priest this Sunday

Father Roy Hoffman is currently serving in the United States Navy as Command Chaplain, Naval Base San Diego. As a Navy Chaplain he has served on four ships including USS RONALD REAGAN and San Diego based USS MAKIN ISLAND and held assignments on both US coasts, in the United Kingdom, and in Iraq. Before receiving his commission as a Naval Officer, Father Hoffman served parishes in Knoxville, Tennessee, and Chicago, Illinois. He is a licensed attorney, a former Franciscan friar, and as an Episcopal priest has had the opportunity to celebrate Eucharist and preach in nine states, three countries, and afloat in the Atlantic and Pacific Oceans, the Mediterranean Sea, the Red Sea, and the Arabian Gulf. Fr. Hoffman has a daughter, Ruby, who attends high school in San Diego. He and his daughter enjoy bike riding, baseball, and theater.





---

Vestry Appoints Interim Rector

Pending final approval by the Diocese of San Diego, the Vestry has appointed Father Robert G. Eaton to serve on a part-time basis as interim rector of All Saints' Parish. Father Eaton was rector of St. John's Church in Tulare, California for 24 years. He has extensive experience as an interim priest, first in Paso Robles and later at St. Dunstan's, San Diego. He has recently completed a year as interim rector at Good Shepherd Parish in Hemet.

Father Eaton is scheduled to begin work as our interim rector before the Thanksgiving holiday and will be the celebrant and preacher at both Masses on Sunday, November 26. During his first four months at All Saints', he will work with us to take the steps necessary to begin the process of calling a new rector. After his initial appointment of four months, his contract as interim rector may be extended for up to eight additional months.

Father Rob and his wife Angela will continue to make their permanent home in Tulare which is also the home of their two daughters and six grandchildren.





---

All Saints' to Host
Willan West 2018

WillanWest 2018 is a Southern California celebration of the Fiftieth Anniversary of the death of English-Canadian composer Healey Willan who served as organist and choirmaster at the Anglo-Catholic parish of St. Mary Magdalene in Toronto from 1921-1966. All Saints' was chosen to host this celebration as it is the only Episcopal parish in San Diego that has the potential to duplicate the environment of St. Mary Magdalene due to its traditional architecture and liturgy.

WillanWest choir under the direction of Ruben Valenzuela will hold 14 Saturday events at All Saints' – Mass, Evensong and Benediction at 7:00pm from January 2018 through November 2018. For additional information about Healey Willan and the Healey Willan project visit

willanwest.org

.

Click Here for more detailed Press Release.





---

All Saints' Thespians (Current and Past)

ALL IS CALM
The Christmas Truce of 1914

Bodhi Tree Concerts, in collaboration with San Diego Opera, SACRA/PROFANA, FAB United and the Veteran's Museum in Balboa Park are bringing back last year's sell-out production, ALL IS CALM.

Timmy Simpson, who many of you know as our former Tenor soloist is one of the featured artists and Vanessa Dinning, our current Alto soloist acts as Dialect Coach on the production

Friday, November 17, 7:00pm

Saturday, November 18, 2:00pm & 7pm

Sunday, November 19, 5:00pm

Veterans Museum at Balboa Park

22115 Park Blvd, San Diego, CA

Thousands of men put down their guns and left the trenches to meet their enemies in 'No Man's Land'. They exchanged gifts of tobacco, rum and chocolates, even photographs of love ones. They sang songs, played a game of soccer, and buried each others' dead. Upon orders from above, they eventually returned to their trenches and re-instigated a war that would last four more years.

Inspired by and based on actual letters and diary entries, ALL IS CALM is a special collaboration of several local arts organizations working together to present this compassionate tale of the true impact of war.

Tickets are $30/$15 Students & Military.

http://www.bodhitreeconcerts.org/





---

A PILGRIMAGE TO THE HOLY LAND

Join Fr. Wayne and Kathy Sanders on a 12-day pilgrimage to the Holy Land from March 26. 2018 to April 6, 2018.

The total trip cost is $3,495. and includes:

· Round trip airfare from San Diego, CA — Superior Accommodation

· Breakfast and Dinner

· Transportation in a Modern Coach for all tour days

· Excellent English speaking tour guide

· Entrance Fees to all sights and portage at hotels

· Price does not include tips, lunch on the road or insurance

· Price is for double occupancy. Extra $689 for single room.

A flyer giving the specific details on the places that will be visited are on the front and back tables in the sanctuary or contact Fr. Sanders





---

ESCAPE
Six Bach Suites for Solo Cello
CD Release

Sophie Webber, cellist, who has performed at All Saints' in concert and played her cello during a Sunday Mass is excited to announce the upcoming late November 2017 release of

"Escape,"

her first CD recording of the Six Solo Cello Suites by J.S. Bach! For Sophie it has been a labour of love, and a humbling and inspiring journey.

Here is a music video preview of the Prelude from Suite No.1 (recorded here in San Diego in August).

If you would like to pre-order a CD,

please click here.

With appreciation for your ongoing support and listening!





---

Northern California Fire Response

Pray for the people of Northern California, who continue to suffer in so many ways from the ongoing fires. Pray for comfort in time of immense loss and fear; pray for those who have died and for their loved ones; pray for those still listed as missing and those who anxiously wait to hear anything; and pray for the exhausted crews fighting fires and sheltering the displaced. I would encourage you to give what you can to relieve the immediate needs of people who have lost everything. The Diocese of Northern California is receiving donations, as is Incarnation Episcopal Church in Santa Rosa. That congregation has been at the center of relief efforts.

This week San Diego marks the 10 year anniversary of the Harris and Witch Creek Fires, the most devastating fire here in memory, and this diocese knows how powerful the gifts of others can be. Please be generous!

Incarnation Episcopal Church Fire Relief Fund

- The Rt. Rev. Katharine Jefferts Schori

Assisting Bishop of the Episcopal Diocese of San Diego




---




ALL SAINTS' YOUTUBE CHANNEL

Have you seen All Saints' Church YouTube channel?

Here is a new video From Palm Sunday Created by Fr. Schuneman with the help of John Gray III.




---




BLESSING BAG

100 new Blessing Bags are ready for you to take 2 or 3 in your car to hand out to those you meet in your daily travels. They have a bit of non-perishable food, water, and some hygiene products. This is a much healthier option for the recipients than giving out cash. Enjoy spreading the love and charity of Christ to our neighbors in need of the basics. Blessing Bags can be found by the front and back tables in the sanctuary.

With gratitude . . . your Social Action Committee




---




Come to Convention

Register today to attend our 44th Annual Diocesan Convention on Friday, November 10 and Saturday, November 11. Earlybird registration ($95) will end 8/31. The convention will take place at St. Bartholomew's, 16275 Pomerado Rd., Poway. Hear engaging speakers on topics such as sacred drumming, lectio divina, Franciscan living in the 21st century, addiction, border issues, multicultural church, and more. New this year is a full two day program for children PreK through fifth grade. Also new is a food packing service project in which we will pack 50,000 meals by hand. Space is limited. Register today:

edsd.org/diocon

.





---

Pictures from City Fest Welcoming August 13, 2017



Photos by John Gray III




---




Pictures from Konrad's baptism july 23, 2017



Photos by John Gray III




---




Pictures of Rev, Harold Reed preaching in july 2017



Photos by John Gray III




---




Successful Art and Music Event

A wonderful time was had by parishioners, friends of All Saints' and neighbors at our Art & Music event last Sunday. Artists Todd Muffatti, Kathryn Dreyer, Troy and Teresa Lindemeier displayed and sold their artist creations under the courtyard trellis while BJ Robinson and friends filled the air with music from musical theater, jazz and opera.

Our thanks to the artists and musicians for giving their time and talent to this Sunday event. Picture by John Gray III. More pictures in the coming issue of our June/July newsletter.





Pictures from the Art & Music Event – May 21st



Photos by John Gray III




---




Pictures from Holy Week 2017




Photos by John Gray III




---

Pictures from the New City Sinfonia concert last Sunday - March 19, 2017



Photos by John Gray III




---





Parish life

Do you enjoy using your phone to take pictures of where you are? We're looking for photos of our parish life at All Saints': parishioners as they arrive for Mass, or after Mass as they congregate on the patio, or are in the Parish Hall enjoying fellowship during the coffee hour, or at all parish events such as upcoming All Saints' Sunday. If you do, please email your photos to Louise Lawson at:






Presentation of our Lord Sunday - Feb 5, 2017 pictures
Fr. Tony's 37th anniversary of his ordination



Photos by John Gray III




ALL SAINTS' PRAYER CHAIN

We, at All Saints', have a long time tradition in our prayer chain. We feel that as we pray together and pass our thoughts and prayers to God that we deepen our relationship, not only to God, but ourselves as his servants.
Please consider joining the prayer chain ministry. Through prayer we can possibly make a difference in the lives of our Parish family and friends. Contact Edith Thrumston.

Prayer: The world's greatest wireless connection.





Sunday Morning Childcare

We are excited to announce that our nursery is now being staffed through Panda's Domestic Referral Agency, which provides childcare for many churches in San Diego. All sitters are childcare professionals that have undergone a national background check and are Infant and Child CPR Certified.





Special Offering on Second Sunday's loose plate

The loose plate collection on the Second Sunday of each month goes to the service of our community through the Parish Pastoral Needs Fund. Your generous contributions help us to serve members of All Saints' in need and our less fortunate neighbors as Christ serves us. Thank you for your continued help with this vital ministry.





All Saints' Action Committee Presents:

All Saints' Reading Group
Share your love of reading with others

Visit our neighbors at the various St. Paul's Senior Homes
Opportunities to read to residents in group and individual settings
Approximately 30 minutes per visit
Scheduling based on your availability, and the and needs of St. Paul's
6 month initial commitment
If you are interested in this exciting new way to connect with members of the community, contact: Joni Palumbo and Vanessa Brush throught the church office.




Want to be an Acolyte?

We have a pressing need for additional Acolytes in order to continue our worship in the manner to which we have all grown accustom. This is particularly true for the 10:30 Mass. If you are seeking an opportunity to serve and think that you might be interested in serving at the Altar, come by the Acolyte room before or after the service to learn what we do.