Follow us on Facebook
625 Pennsylvania Avenue
San Diego, California 92103
619.298.7729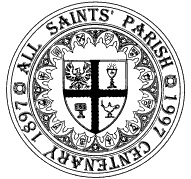 This Sunday and Beyond
Our weekly blog reflecting on the Sunday readings.
click here for a PDF of This weeks Blog



Sunday's Solemn Mass bulletin, in PDF format.


9-24-2017 SIXTEENTH SUNDAY AFTER PENTECOST SOLEMN MASS BULLETIN YR-A.pdf



Last Sunday's Solemn Mass bulletin, in PDF format.


9-17-2017 FIFTEENTH SUNDAY AFTER PENTECOST SOLEMN MASS BULLETIN YR-A.pdf



---

Guest Priest this Sunday

Please welcome our guest priest for this Sunday and a couple more Sundays in October, the 22nd and 29th.

If you have worshipped before at All Saints', you might recognize his Chicago accent and his wife Kathy's beautiful singing from any pew in the church. The Reverend Canon Wayne Sanders is a Canon for the Bishop and Diocese for Interreligious affairs which means, he represents the Bishop whoever that may be, whenever the Bishop cannot be someplace to represent the Episcopal Church. At present he is Vice-President of the Interreligious Council of SD county.

He was born on the north side of Chicago and was ordained a Roman Catholic Priest on April 26, 1966 at St. Mary of the Lake Seminary, Mundelein, Illinois. His first Parish was on the South side of Chicago where he was an Assistant Priest, and then at St Gabriel Parish for five years where he served before entering the Navy as Chaplain for the next five years. During those five years, Fr. was reading and writing to Fr. Robert Wolterstorff, Rector of St. James by the Sea, who was his mentor in learning more about the Episcopal Church and how he might possibly become an Episcopal priest when he was released from active duty. That day happened on December 24, 1976 when he was officially received as an Episcopal Priest in the St. Mary's Chapel of All Saints'.

Kathy and Fr. Wayne have two grown children and three grandchildren that he and Kathy would love to tell you more about and would also love to know more about each and everyone of you and your families. It is obvious that the Sanders family loves the All Saints' family and always will.





---

Good By to Fr. McQueen and his family

As many of you may know September 3rd was Father McQueen's last Sunday as our Rector. We want to wish Father McQueen, Sarah and their wonderful two children, Everett and Mattie, God's speed in their moving to Texas and getting established in his new position.





---

Spaghetti Dinner

Join us on Thursday, October 5 from 4pm to 6pm in the Parish Hall for a delicious spaghetti dinner prepared by chef Cree Craig. The dinner is a fundraiser for All Saints' Preschool and All Saints' Outreach ministry. Cost: $10 per person.





---

All Saints' Thespian

BJ Robinson plays the voice in the flower pot in "The Little Shop of Horrors an iconic sci-fi spoof musical, now at the Coronado Playhouse until October 15, with shows every Thursday, Friday and Saturday at 8pm, and Sundays at 2pm. Tickets are available at

coronadoplayhouse.com

Rave review from two All Saints' parishioners who saw this show on opening night — A great play to take your grandchildren to.





---

A PILGRIMAGE TO THE HOLY LAND

Join Fr. Wayne and Kathy Sanders on a 12-day pilgrimage to the Holy Land from March 26. 2018 to April 6, 2018.

The total trip cost is $3,495. and includes:

· Round trip airfare from San Diego, CA — Superior Accommodation

· Breakfast and Dinner

· Transportation in a Modern Coach for all tour days

· Excellent English speaking tour guide

· Entrance Fees to all sights and portage at hotels

· Price does not include tips, lunch on the road or insurance

· Price is for double occupancy. Extra $689 for single room.

A flyer giving the specific details on the places that will be visited are on the front and back tables in the sanctuary or contact Fr. Sanders





---

ALL SAINTS' ALTO LEAD THEATER COACH

Vanessa (alto section leader) is currently working as the Dialect Coach on Billy Elliot, a co-production between San Diego Musical Theatre and California Ballet.

Billy Elliot is a stage musical inspired by the movie of the same name. It tells the story of a little boy in County Durham, England, during one of the most turbulent times in recent British history. It's a wonderful story of a community that comes together in a time of adversity, stress and hardship - the Miners' Strike of 1984 - and in the middle of it all is a little boy who discovers his talent and love for ballet.

Please note there is strong language.

For information and tickets:

http://www.sdmt.org/shows/billy-elliot/

The production runs from Sept 22 - Oct 8, 2017 at the Spreckels Theatre, downtown.





---

Responding to Multiple Hurricanes

Donate to the Hurricane Response Fund to support impacted dioceses as they meet the needs of their most vulnerable neighbors after these events: https://support.episcopalrelief.org/hurricane-relief


---




ALL SAINTS' YOUTUBE CHANNEL

Have you seen All Saints' Church YouTube channel?

Here is a new video From Palm Sunday Created by Fr. Schuneman with the help of John Gray III.




---




BLESSING BAG TIME

Thank you all for helping us successfully fill 100 new Blessing Bags. They are ready for you to take 2 or 3 in your car to hand out to those you meet in your daily travels. They have a bit of non-perishable food, water, and some hygiene products. This is a much healthier option for the recipients than giving out cash. Enjoy spreading the love and charity of Christ to our neighbors in need of the basics. Blessing Bags can be found by the front and back tables in the sanctuary

With gratitude . . . your Social Action Committee




---




Come to Convention

Register today to attend our 44th Annual Diocesan Convention on Friday, November 10 and Saturday, November 11. Earlybird registration ($95) will end 8/31. The convention will take place at St. Bartholomew's, 16275 Pomerado Rd., Poway. Hear engaging speakers on topics such as sacred drumming, lectio divina, Franciscan living in the 21st century, addiction, border issues, multicultural church, and more. New this year is a full two day program for children PreK through fifth grade. Also new is a food packing service project in which we will pack 50,000 meals by hand. Space is limited. Register today:

edsd.org/diocon

.





---

Pictures from City Fest Welcoming August 13, 2017



Photos by John Gray III




---


All Saints, the movie, is a must see for all. It is the true story of a pastor in Tennessee, who with the help of 50 Burmese refugees saved his dying church by turning the grounds around the church into a working farm. The movie will lift your spirits and move you to know that God is active in the wide world and that He listens to our prayers.

?You do not have an All Saints without faith. You do not have an All Saints without Jesus Christ. Human willing would not have been enough to save All Saints.

Plan to see this inspiring movie this weekend. It is showing at 2 theaters in the San Diego area. Click here for Cinema theater locations.


---




Pictures from Konrad's baptism july 23, 2017



Photos by John Gray III




---




Pictures of Rev, Harold Reed preaching in july 2017



Photos by John Gray III




---




Successful Art and Music Event

A wonderful time was had by parishioners, friends of All Saints' and neighbors at our Art & Music event last Sunday. Artists Todd Muffatti, Kathryn Dreyer, Troy and Teresa Lindemeier displayed and sold their artist creations under the courtyard trellis while BJ Robinson and friends filled the air with music from musical theater, jazz and opera.

Our thanks to the artists and musicians for giving their time and talent to this Sunday event. Picture by John Gray III. More pictures in the coming issue of our June/July newsletter.





Pictures from the Art & Music Event – May 21st



Photos by John Gray III




---




Pictures from Holy Week 2017




Photos by John Gray III




---

Pictures from the New City Sinfonia concert last Sunday - March 19, 2017



Photos by John Gray III




---





Parish life

Do you enjoy using your phone to take pictures of where you are? We're looking for photos of our parish life at All Saints': parishioners as they arrive for Mass, or after Mass as they congregate on the patio, or are in the Parish Hall enjoying fellowship during the coffee hour, or at all parish events such as upcoming All Saints' Sunday. If you do, please email your photos to Louise Lawson at:






Presentation of our Lord Sunday - Feb 5, 2017 pictures
Fr. Tony's 37th anniversary of his ordination



Photos by John Gray III




ALL SAINTS' PRAYER CHAIN

We, at All Saints', have a long time tradition in our prayer chain. We feel that as we pray together and pass our thoughts and prayers to God that we deepen our relationship, not only to God, but ourselves as his servants.
Please consider joining the prayer chain ministry. Through prayer we can possibly make a difference in the lives of our Parish family and friends. Contact Edith Thrumston.

Prayer: The world's greatest wireless connection.





Sunday Morning Childcare

We are excited to announce that our nursery is now being staffed through Panda's Domestic Referral Agency, which provides childcare for many churches in San Diego. All sitters are childcare professionals that have undergone a national background check and are Infant and Child CPR Certified.





Special Offering on Second Sunday's loose plate

The loose plate collection on the Second Sunday of each month goes to the service of our community through the Parish Pastoral Needs Fund. Your generous contributions help us to serve members of All Saints' in need and our less fortunate neighbors as Christ serves us. Thank you for your continued help with this vital ministry.





All Saints' Action Committee Presents:

All Saints' Reading Group
Share your love of reading with others

Visit our neighbors at the various St. Paul's Senior Homes
Opportunities to read to residents in group and individual settings
Approximately 30 minutes per visit
Scheduling based on your availability, and the and needs of St. Paul's
6 month initial commitment
If you are interested in this exciting new way to connect with members of the community, contact: Joni Palumbo and Vanessa Brush throught the church office.




Want to be an Acolyte?

We have a pressing need for additional Acolytes in order to continue our worship in the manner to which we have all grown accustom. This is particularly true for the 10:30 Mass. If you are seeking an opportunity to serve and think that you might be interested in serving at the Altar, come by the Acolyte room before or after the service to learn what we do.