Follow us on Facebook
625 Pennsylvania Avenue
San Diego, California 92103
619.298.7729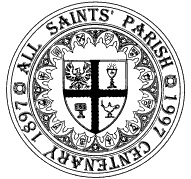 Sundays - Low Mass 8:00am; Solemn Mass 10:30am
Sunday School 10:30am Child Care at 8am and 10:30am Services
This week's calendar





This Sunday and Beyond
Our weekly blog reflecting on the Sunday readings.

Sunday's Solemn Mass bulletin, in PDF format.


12-9-2018 ~ SECOND SUNDAY OF ADVENT ~ SOLEMN MASS BULLETIN YR-C.pdf



Last Sunday's bulletin, in PDF format.
12-2-2018 ~ FIRST SUNDAY OF ADVENT ~ SOLEMN MASS BULLETIN YR-C.pdf


---




Fall Stewardship Campaign

As of the First Sunday in Advent (Dec. 2), we have received 33 pledges for 2019 for a total of $83,220. These pledges represent a welcomed faithful response as we continue in the process of calling a new rector.

Father Eaton reminds us that Advent is like a "wake up call" reminding us to focus on preparing for the coming of Christ in the manger at Christmas and His coming again in glory at the end of time. It is also a good time to reflect on stewardship of God's gifts in light of our fall pledge campaign theme of "Giving to Grow Saints." It's never too late to submit a pledge, and pledges received through the third Sunday in Advent will be crucial as the Vestry deliberates on next year's parish budget. Pledge forms and pencils are available in the pews and on the table at the back of church. You may drop your completed pledge card in the offering plate any Sunday or send it to the church office.




---

Christmas Poinsettias

We are offering an opportunity for parishioners to dedicate a Christmas poinsettia in memory of a loved one. These flowers will be used to decorate the High Altar and Sanctuary for Christmas. Orders must be completed by Monday, December 17th to ensure that all names will be in the Christmas bulletins. The cost is $25 per plant.

We will be preparing the Church and the patio for Christmas on Monday the 24th and will meet at 9am in the Flower Room. All are welcome!

Forms are located on the front and back tables in the nave.




---

Rose Sunday, December 16
Xmas Treats & Books etc.

On December 16, Rose Sunday, you are invited to bake and bring your favorite Christmas breads and cookies for a Holiday bake sale after the 8am and 10:30am Masses. Let Kathryn Dreyer kldreyer@cox.net know you will be part of this festive event.

And Kathryn Bunch of K~B Books will be joining us at All Saints' with her traveling book ministry after both services.

Kathryn specializes in children's books from birth through age 10.

The primary focus will be Advent, & Christmas. There will also be a wide range of books on aging, caregiving, healing, & assorted books on prayer. Printery House cards for all occasions, advent calendars, CD's, puzzles, assorted gift items in finished pewter, brass & bronze gifts from Ireland's Grey Goose Studios will also be featured. Featured books, Bishop Currey's latest, "The Power of Love" & "Those Episkopols", which is a fun stocking stuffer.

Advance orders are welcome – contact Kathryn at 619-204-4039.




---

Social Action Committee
Last Call

Your support for our Sweatshirt and Sweatpants Drive to benefit people in need in our community ends this coming week.

Partnering with Scripps Mercy Hospital allows us to reach the neediest in our neighborhood.

Not sure where to purchase your sweats, t-shirts and socks? Walmart, Target, Costco and Amazon have reasonably priced clothing in stock. Preferably please purchase either size large or extra large. Monetary donations are always welcome (there are envelopes on the back table).

In Service,

All Saints Social Action Committee

Tamela Dreyer, Barbara Wilder, Kay Phillips, Lynette Blakney

---

MEMORIAL GARDEN NEWS

The stone walls have been designed and some plantings are in place. What an improvement has occurred in the past few weeks! A small gathering was able to take place after Peter Dennis' Memorial service and every attempt was made to have the garden looking meditative and serene. Some furniture has been added which was donated as was a Queen palm. Mary Maust's statue which has been in the breezeway by the Fireside Room for far too long has finally found its home in the garden as well.

Future Plans include (with Vestry approval in some cases) and dependent on donations:

· A type of combination lock on all three gates leading to the garden so that all might enjoy a visit

· A list of mature plants forthcoming that may be donated to include some to be espaliered on the long fence near parking lot

· A bed for ferns to be constructed in southeast corner of garden near walkway and to continue the stone wall theme that may be used on the altar

· An arched entry over the entry gate with some type of trailing plant to fill it in

· A curved teak bench near the olive tree

When plants are chosen for appropriateness, a list will be provided to all.

Thank you for your patience and support for this project!

Book Published

Todd Muffatti, member of our Vestry, has just published a book titled "Creative Successful Set Designs." Filled with dozens of photos, illustrations and technical diagrams, the book guides theater teachers through the preparation and design steps necessary to build an appropriate and effective stage set. Using his 40-year career as a professional set designer and university professor Todd shares tips from his creative process and offers practical ideas about how to approach and accomplish imaginative set designs for High School, Jr. College, and little Theater Groups . His book is available from

www.atlantic-pub.com

. and in the Parish Office for your perusal.

---





---

Special Gift For All Saints'

The "Apostolic Succession" painting (western icon style) is given to All Saints' by Kathryn Dreyer, and has been a collaborated effort with Fr. Eaton. It will be blessed today during the second Mass, and hang above the Bishop's chair in the sanctuary. The imagery is built upon Ephesians 3:7-10. To interpret Fr. Eaton's wishes, he wanted Jesus sitting as on a grape vine with its branches symbolizing the blessing of the Apostles and its roots resting on the head and shoulders of the Bishop. This painting has been an honor to paint and a labor of love with considerable research and dedicated disciplines. "Apostolic Succession" is painted on Baltic birch wood with actual gold leaf, acrylic paints and salt. It has been a prayerful experience.




---

Christmas Play

Jo Darlene Reardon, one of our All Saints' thespians gives us news of a holiday Lamplighter Theater production. Residents of a retirement home wish for an old fashioned Christmas. Their wish is granted by a magical spirit. The current year turns into the 18th century where many things were different at the time. Many complications ensue in this hilarious comedy. Eventually the residents wish to return back to the present time. Their wish is granted.

Christmas is a special time for all of us. Please join us for fun and singing.

Lamplighter Theatre

5915 Severin Drive La Mesa Ca. 91940

Dates November 30-December 16

Friday, Saturday Evenings

Sunday Matinee.

Website:

https://www.lamplighterslamesa.com/special-event

Tickets at

boxofficre@lamplighterslamesa.com





---

Pictures from Holy Week 2018






Photos by John Gray III





---

Spphie Webber
Six Bach Suites for Solo Cello
Update

Here are the latest updates from Sophie Webber, cellist, who has performed at All Saints' in concert and played her cello during a Sunday Mass

She was thrilled to recently learn that ESCAPE: BACH'S SIX SUITES FOR SOLO CELLO was given a lovely and very flattering review in Gramophone magazine (June 2018 issue)! Here's an online version here:

https://www.gramophone.co.uk/review/js-bach-solo-cello-suites-webber-skoraczewski

Another very nice write up came from Jon Jacob in a review on his classical music blog, Thoroughly Good

https://www.thoroughlygood.me/2018/03/30/review-sophie-webber-plays-bach-cello-suites-on-escape/

More press reviews can be found on my EPK page under PRESS (https://www.sophiewebber.com/epk-1)

ESCAPE: BACH'S SIX SUITES FOR SOLO CELLO is also being aired on radio stations across the USA (including Southern California's Classical KUSC 91.5FM, Seattle's King FM 98.1, Iowa Public Radio, Tampa Bay (Florida)'s WUSF Public Media, Rochester (New York)'s WXXI Classical 91.5, North Carolina's WCPE The Classical Station 89.7 FM, Portland's All Classical 89.9 KQAC FM)

Other projects Sophie is currently working on include a recording of Bach Suite No.1 in G Major BWV1007 with chamber choir (singing an arrangement I wrote --minimal, highlighting harmonies and the interplay of consonance and dissonance). Martin Green, the Choral Director at St. Paul's Cathedral in San Diego (where I recorded Escape) has generously agreed to pioneer this project with me, and we will be meeting with the singers (handpicked from Martin's wonderful choirs at St. Paul's) in the next couple of weeks for an initial recording session of the Prelude from Suite No.1.

She is also working with a video artist to create another music video, this one featuring the Allemande from Suite No.6.

Sophie appreciates your interest and ongoing support




---




ALL SAINTS' YOUTUBE CHANNEL

Have you seen All Saints' Church YouTube channel?

Here is a new video From Palm Sunday Created by Fr. Schuneman with the help of John Gray III.




---




Pictures from Epiphany 2018



Photos by John Gray III




---




Pictures of Christmas 2017 flowers



Photos by John Gray III




---




Pictures from Christmas Eve 2017



Photos by John Gray III




---






Parish life

Do you enjoy using your phone to take pictures of where you are? We're looking for photos of our parish life at All Saints': parishioners as they arrive for Mass, or after Mass as they congregate on the patio, or are in the Parish Hall enjoying fellowship during the coffee hour, or at all parish events such as upcoming All Saints' Sunday. If you do, please email your photos to Louise Lawson at:






ALL SAINTS' PRAYER CHAIN

We, at All Saints', have a long time tradition in our prayer chain. We feel that as we pray together and pass our thoughts and prayers to God that we deepen our relationship, not only to God, but ourselves as his servants.
Please consider joining the prayer chain ministry. Through prayer we can possibly make a difference in the lives of our Parish family and friends. Contact Edith Thrumston.

Prayer: The world's greatest wireless connection.





Sunday Morning Childcare

We are excited to announce that our nursery is now being staffed through Panda's Domestic Referral Agency, which provides childcare for many churches in San Diego. All sitters are childcare professionals that have undergone a national background check and are Infant and Child CPR Certified.





Want to be an Acolyte?

We have a pressing need for additional Acolytes in order to continue our worship in the manner to which we have all grown accustom. This is particularly true for the 10:30 Mass. If you are seeking an opportunity to serve and think that you might be interested in serving at the Altar, come by the Acolyte room before or after the service to learn what we do.