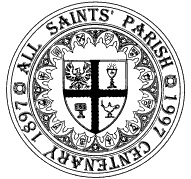 Rector:
Rev. J. D. McQueen.
Sunday Sermons

"For All The Saints" newsletter

Marian Societies
of All Saints


All Saints' Books for sale

High Mass at All Saints' Booklet

Picture Page


All Saints Pre-School web site.





"For All The Saints" Newsletter
Click here for August - September edition.




SHORT NOTICES:

The Vestry will meet on Tuesday the 19th at 7:00 PM.




Beginning this Wednesday (20th), St. Mary's Chapel will be open for private prayer and devotion from 4:30 to 6:30 PM.




Evening Prayer will now be read in St. Mary's Chapel on Wednesdays at 6:30 PM.




PARISH FORUMS:

Sunday, August 17th and 24th

In The Episcopal Church, the Annual Meeting held in late January-early February is the primary occasion to gather together to report on the previous year, offer a vision for the year to come, and conduct the business of the church. In recent years it has been a priority at All Saints' to provide other opportunities as well, and on Sunday, August 17th and Sunday, August 24th, we will hold forums offering midyear updates on Parish Finances (17th) and Parish Vision (24th). Please come and join us from 9:15 - 10:15 to be a part of the conversation about where we are and our plans for the remainder of the year.





ONE DAY RETREAT WITH FATHER BENEDICT:

Saturday, August 23rd

Spend the day with Fr. Benedict Reid, OSB on Aug. 23rd. Fr. Benedict is the former Abbot of St. Gregory's Abbey in Three Rivers, MI. He currently lives as a solitary in Palm Desert. He will share his wisdom and from 9:00 AM - 2:30 PM at St. Paul's Cathedral. There will be Noon Mass followed by a Luncheon. A donation of $35 is suggested but not required.





JOIN THE CHOIR:

The parish choir is on their well deserved vacation and will return on the Sunday following Labor Day. If you have ever considered becoming a part of the choir this might be a perfect time to do so. We are often told that our choir is one of the best small choirs in the area which is flattering to hear. But we would like to see some growth in the ranks and so I hope that you will consider joining us. We have four very capable soloists/section leaders who give immeasurable support and strength to the choir. Rehearsals are Thursday nights from 7.00 to 9.00 and the "call time" is 9.30 on Sunday mornings. We would welcome additions in each section (soprano, alto, tenor and bass) though we especially need more support in the soprano section. Fine solo voices are not a requirement, simply a desire to sing and be a part of the group. Please feel free to call me if you would like to discuss this opportunity. I would want to hear prospective choir members in order to determine which section would be the best fit for the voice.
Sincerely,
Bob MacLeod, Choirmaster
(619) 296-8005





CHAPEL DOCENT:

Help us to provide a secure sanctuary for all who would like a sacred space for prayer. Any days or times (mornings, afternoons & evenings) are available for those who wish to keep watch over St. Mary's Chapel while others pray. This a wonderful opportunity to enjoy the beauty of our chapel in a prayerful way. Please contact David Merry for further information: (619) 298-7729 or administrator@allsaintschurch.org.




Join our E-Mail list: E-mail to: outreach@allsaintschurch.org
and put in the subject line:"ADD ME."
We will periodically send information on special events and services.