Follow us on Facebook
625 Pennsylvania Avenue
San Diego, California 92103
619.298.7729

For Directions and Parking click here.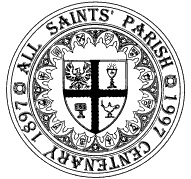 Sundays - Low Mass 8:00am; Solemn Mass 10:30am
Adult Christian Formation 9:20am Sunday School 10:30am
Child Care at 8:00am and 10:30am Services





This Sunday and Beyond
The Sunday and Beyond includes Father McQueen's reflection on the Sunday readings, the calendar and upcoming events
Visit Father McQueen's Sunday reflections Blog

Sunday's Solemn Mass bulletin, in PDF format.
8-28-2016- PENTECOST XV (Proper 17) SOLEMN MASS BULLETIN YR-C.pdf

Last Sunday's Solemn Mass bulletin, in PDF format.
8-21-2016- PENTECOST XIV (Proper 16) SOLEMN MASS BULLETIN YR-C.pdf



---

---

Societies of Mary


On Saturday, September 3 all are invited and welcome to join the Societies of Mary for their monthly day of devotion. The devotion will begin in the Chapel with Rosary at 11:00am and with Mass following at 11:30am.
After Mass we will adjourn to the Parish Hall for a potluck lunch.


Last names beginning with…
A-G Please bring a SALAD
H-M Please bring a DESSERT
N-Z Please bring an ENTRÉE





RESPONDING TO GULF COAST FLOODS


Episcopal Relief & Development's US Disaster Team has been in close contact with dioceses in the region and is providing support for their local efforts. The immediate response will help provide basic necessities to those most impacted. Affected dioceses will then coordinate with Episcopal Relief & Development to meet needs in the coming months and years.
Your support of Episcopal Relief & Development's US Disaster Fund helps them respond to disasters and to care for those affected by this crisis.
You can contribute on-line at episcopalrelief.org/gulfcoastflood





CHRISTIAN FORMATION


Join Father McQueen for Christian Formation at 9:30am in the Fireside Room as he continues the course based on the spiritual classic The Fulfillment of All Desire (FAD) by Dr. Ralph Martin. Dr. Martin is a cradle Roman Catholic author and professor who has also been a leader in the charismatic renewal of Catholic Church for decades, beginning in the Cursillo Movement and now as the president of Renewal Ministries. Books are available for $15, please see Fr. McQueen.

This week the topic is learning how to respond to temptations and trials.





Blessing Bag Ministry


Thank you to all the parishioners who have already sent out over 100 Blessing Bags We will be preparing another round of smaller bags that will make use of the various edibles that have expiration dates and would like to include more toiletries (travel size) and water. There is a summer shopping list on the tables in the front and back of the church (and, of course, monetary donations are always welcomed). We will be taking inventory of everything in mid-August. At that time we will fill the new, smaller bags and have them ready for you by Labor Day weekend.


Blessing Bag Shopping List
Spring/Summer 2016


Toiletries

Lotion Deodorant
Shampoo Safety Pins (big)
Chapstick Sunscreen
Toothbrush

Note: All toiletries must be unopened, individually wrapped, and travel/sample sizes only. Larger items, while appreciated, will be donated to another program. Monetary donations are also welcomed. Thank you in advance.

In service,
All Saints' Social Action Committee





From the All Saints' Concert Series - June 2016
St. Petersburg Men's Ensemble (Russian)



See the video also.
Photos by John Gray III





Trinity Sunday - May 22, 2016 pictures - Bishop's visit



Photos by John Gray III



ALL SAINTS' PRAYER CHAIN

We, at All Saints' Parish, have a long time tradition in our prayer chain. We feel that as we pray together and pass on our thoughts and prayers to God we deepen our relationship , not only with God, but with ourselves as his servants and parishioners. Please join us in keeping this time honored tradition continuing to help others see God and seek his help and blessings as we do. Call Lynette Blakney (call the office for her number.)

Prayer: The world's greatest wireless connection.





Sunday Morning Childcare

We are excited to announce that our nursery is now being staffed through Panda's Domestic Referral Agency, which provides childcare for many churches in San Diego. All sitters are childcare professionals that have undergone a national background check and are Infant and Child CPR Certified.





Special Offering on Second Sunday's loose plate

The loose plate collection on the Second Sunday of each month goes to the service of our community through the Parish Pastoral Needs Fund. Your generous contributions help us to serve members of All Saints' in need and our less fortunate neighbors as Christ serves us. Thank you for your continued help with this vital ministry.





All Saints' Action Committee Presents:

All Saints' Reading Group
Share your love of reading with others

Visit our neighbors at the various St. Paul's Senior Homes
Opportunities to read to residents in group and individual settings
Approximately 30 minutes per visit
Scheduling based on your availability, and the and needs of St. Paul's
6 month initial commitment
If you are interested in this exciting new way to connect with members of the community, contact: Joni Palumbo and Vanessa Brush throught the church office.




Want to be an Acolyte?

We have a pressing need for additional Acolytes in order to continue our worship in the manner to which we have all grown accustom. This is particularly true for the 10:30 Mass. If you are seeking an opportunity to serve and think that you might be interested in serving at the Altar, come by the Acolyte room before or after the service to learn what we do.