Follow us on Facebook
625 Pennsylvania Avenue
San Diego, California 92103
619.298.7729

For Directions and Parking click here.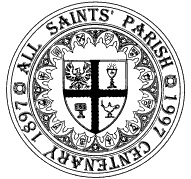 Sundays - Low Mass 8:00am; Solemn Mass 10:30am
Adult Christian Formation 9:30am Sunday School 10:30am
Child Care at 8:00am and 10:30am Services





This Sunday and Beyond
The Sunday and Beyond includes Father McQueen's reflection on the Sunday readings, the calendar and upcoming events
Visit Father McQueen's Sunday reflections Blog



Sunday's Solemn Mass bulletin, in PDF format.


2-19-2017-THE SEVENTH SUNDAY AFTER THE EPIPHANY SOLEMN MASS BULLETIN YR-A.pdf



Last Sunday's Solemn Mass bulletin, in PDF format.


2-12-2017-THE SIXTH SUNDAY AFTER THE EPIPHANY SOLEMN MASS BULLETIN YR-A.pdf



---

Parish life

Do you enjoy using your phone to take pictures of where you are? We're looking for photos of our parish life at All Saints': parishioners as they arrive for Mass, or after Mass as they congregate on the patio, or are in the Parish Hall enjoying fellowship during the coffee hour, or at all parish events such as upcoming All Saints' Sunday. If you do, please email your photos to Louise Lawson at:






From Fr. Tony

I want to thank the people of All Saints' for making the celebration of the 37th anniversary of my ordination to the priesthood such a wonderful occasion last Sunday. Thank you, firstly, to Fr McQueen for inviting me to celebrate the High Mass. It was a great joy and privilege for me. The music was just wonderful - thank you Bob. The acolytes and all who assisted ensured all went well and the reception afterwards was a typical All Saints feast!

As you read this, I am in London. On Monday I go to Walsingham for a week's pilgrimage with Clare Jacob. We will have the parish in our intentions and prayers, of course, and on Tuesday at 8:00am San Diego time I will be offering Mass in the shrine with special intention for All Saints'.






Presentation of our Lord Sunday - Feb 5, 2017 pictures
Fr. Tony's 37th anniversary of his ordination



Photos by John Gray III



February Events

Pancake Brunch
Saturday, February 25th at 9:00am


Join us on Saturday, February 25 from 9:00am to 11:00am in the Parish Hall for a delicious brunch of pancakes, sausage and suitable condiments. This is a fundraiser for All Saints' Preschool and All Saints' Outreach Ministry. Brunch is $5 per person.



Award Winning Young Organists in Concert
February 26th at 4:00pm


All Saints' is delighted to be hosting a concert highlighting the talents of three awarding winner young organists on Sunday, February 26th at 4:00pm. The young organists are John Yokoyama, winner of the 2015 and 2016 Intermediate Division AGO/Spreckels Scholarship; Miranda Kaack winner of the 2015 and 2016 Novice Division AGO Spreckels Scholarship and Vincent Pham, winner of the 2015 Advanced Division AGO/Spreckels Scholarship and the 2016 first place winner of the Southern Junior Bach Festival Complete Works Auditions.

Please join us for an opportunity to hear and support these 3 talented San Diego young artists as they perform organ works from Bach to 20th century composers.

After the concert a reception will be held in the Parish Hall to meet the young artists.

Donation $10 — supports the Music Outreach Ministry at All Saints'






---




CHRISTIAN FORMATION

Christian formation resumes this Sunday in the usual time and place with a Bible Study on the Gospel of Matthew.





Special Reception for Mary Ann Saucedo
Sunday, March 5th

There will be a reception in the Parish Hall for Mary Ann Saucedo on Sunday March 5th after the 10:30 mass. We would love for you to join us.

We are happy for Mary Ann, but also very sad. She and her son, Ray are moving to Florida to be with her daughter, Linda. She is very special and is loved by all. We will miss her very much.

There will always be a very special place in our hearts for you, Mary Ann.





BLESSING BAG SUNDAY

Many thanks to all who participated in filling Blessing Bags this past Sunday. Completed bags are available in back of church and in the Parish Hall. Please take as many as you like to distribute to the homeless as you see fit. A supply is also kept in the Parish Office to give to anyone asking for assistance. The next Blessing Bag event will be during Advent.

Your Social Action Committee





ALL SAINTS' PRAYER CHAIN

We, at All Saints', have a long time tradition in our prayer chain. We feel that as we pray together and pass our thoughts and prayers to God that we deepen our relationship, not only to God, but ourselves as his servants.
Please consider joining the prayer chain ministry. Through prayer we can possibly make a difference in the lives of our Parish family and friends. Contact Edith Thrumston.

Prayer: The world's greatest wireless connection.





CORNER MONUMENT PLAQUE


On your next visit to All Saints' take a walk to the corner of Pennsylvania and 6th Avenues. There you will find that the church's cornerstone and the letters on the cornerstone have been repainted; and that All Saints' seal has been recreated in bronze. In the words of one of All Saints' parishioners— "classy". In the December/January newsletter issue an article will describe the various elements of the seal.






September 25, 2016 pictures - Baptism of Isla



Photos by John Gray III



From the All Saints' Concert Series - June 2016
St. Petersburg Men's Ensemble (Russian)



See the video also.
Photos by John Gray III





Trinity Sunday - May 22, 2016 pictures - Bishop's visit



Photos by John Gray III



Preschool Christmas Pageant


December 16th at 5:00pm. Hear the children sing christmas song lead by Fr. Sanders.





Sunday Morning Childcare

We are excited to announce that our nursery is now being staffed through Panda's Domestic Referral Agency, which provides childcare for many churches in San Diego. All sitters are childcare professionals that have undergone a national background check and are Infant and Child CPR Certified.





Special Offering on Second Sunday's loose plate

The loose plate collection on the Second Sunday of each month goes to the service of our community through the Parish Pastoral Needs Fund. Your generous contributions help us to serve members of All Saints' in need and our less fortunate neighbors as Christ serves us. Thank you for your continued help with this vital ministry.





All Saints' Action Committee Presents:

All Saints' Reading Group
Share your love of reading with others

Visit our neighbors at the various St. Paul's Senior Homes
Opportunities to read to residents in group and individual settings
Approximately 30 minutes per visit
Scheduling based on your availability, and the and needs of St. Paul's
6 month initial commitment
If you are interested in this exciting new way to connect with members of the community, contact: Joni Palumbo and Vanessa Brush throught the church office.




Want to be an Acolyte?

We have a pressing need for additional Acolytes in order to continue our worship in the manner to which we have all grown accustom. This is particularly true for the 10:30 Mass. If you are seeking an opportunity to serve and think that you might be interested in serving at the Altar, come by the Acolyte room before or after the service to learn what we do.