Follow us on Facebook
625 Pennsylvania Avenue
San Diego, California 92103
619.298.7729

For Directions and Parking click here.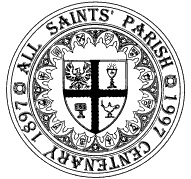 Sundays - Low Mass 8:00am; Solemn Mass 10:30am
Adult Christian Formation 9:15am
Sunday School 10:30am



Rector:
Rev. J. D. McQueen.
Sunday Sermons

"For All The Saints" newsletter
October - November edition

Marian Societies
of All Saints


All Saints' Books for sale

Picture Page


All Saints Pre-School web site.




Sunday Solemn Mass bulletin, in PDF format.
1MAR15LENT IISOLEMN MASS BULLETIN YR-B.pdf



| | |
| --- | --- |
| | STATIONS OF THE CROSS & BENEDICTION Please join us this Friday and every Friday in Lent at 6:00pm for Stations of the Cross & Benediction in the Church, followed by a Simple Supper in the Parish Hall. |





GARDENING:

If you enjoy getting your hands into the earth, the Garden Committee is looking for new members to help keep the Parish grounds in full bloom. Please contact Sue Johnston through the parish office for more information.





BLESSING BAGS:

Join us in providing for those less fortunate by helping the Parish put together 35 Blessing Bags to provide to the homeless in Hillcrest.
We are requesting cash donations as well as the following items:
Toiletries (travel size) - shampoo, body wash, deodorant, mouthwash,
dental floss, hand sanitizer, Kleenex.
Gift Cards (small amt $5-$10) - Starbucks, Target, Albertsons, 7-Eleven,
Subway, etc.
Snacks & Sweets - candy, protein bars, nuts, crackers n' cheese,
crackers n' peanut butter, etc.
Plastic Ponchos (travel)
Please use the donation boxes at the back of the church to make your contribution. Please contact David Merry with any questions. Thank you in advance for your support of our outreach to San Diego's homeless population, many of whom are veterans of our Armed Forces.





CAMP STEVENS:

The Diocese of San Diego invites you and your family to join in the fun and adventure at Camp Stevens.
Please see below for Spring & Summer offerings:

Annual Women's Retreat at Camp Stevens will be April 10-12. Led by The Rev. Lisa Rotchford, this year's theme is Sabbath for the Soul and will use scripture, art and music to help participants center and revitalize.

The Very Reverend Gary Hall, Dean of the National Cathedral in Washington DC, will lead a retreat at Camp Stevens this spring.

Family Camps with Camp Stevens The whole family can get in on the fun at Camp Stevens. Their community-focused family camps include two weekend Family Camps: Sprout: Spring Family Weekend and Memorial Day Family Camp. Both are great for grandparents and grandkids, or extended families.)

Looking for more than a vacation? Our diocesan camp and retreat center, Camp Stevens does much more than summer camp. Join one of their adult trips this summer or fall. The Adult & Family Basecamp Backpacking Trip (July 10-18) takes beginning and more experienced backpackers on a breathtaking trip in the Eastern Sierra Nevada Mountains, with mules to carry the gear. And their Fall Baja Trek in October is a relaxing camping trip on the shore of the Sea of Cortez. Contact ashley@campstevens.org

It's summer camp season! Camp Stevens, our diocesan summer camp in the mountains of San Diego, offers 6-day summer camp sessions for 8-16 year olds (plus one 2-week session just for 12-15 year olds), and wilderness adventure trips for teens. Send a child in your life on an empowering, faith-based, and fun adventure this summer.

To find out more please go to www.campstevens.org.









Join our E-Mail list: E-mail to: outreach@allsaintschurch.org
and put in the subject line:"ADD ME."
We will periodically send information on special events and services.