Follow us on Facebook
625 Pennsylvania Avenue
San Diego, California 92103
619.298.7729

For Directions and Parking click here.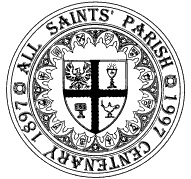 Sundays - Low Mass 8:00am; Solemn Mass 10:30am
Adult Christian Formation 9:20am Sunday School 10:30am
Child Care at 8:00am and 10:30am Services







Major Church Schedule Change On Sunday, October 16th
Sunday morning services will be held Saturday, October 15th at 4pm due to Breast Cancer Walk


After receiving notice that on Sunday, October 16th, both 6th Ave and Robinson Ave would be blocked from 7:00-11:00 am for the Making Strides Against Breast Cancer walk, the Rector, Wardens, and Vestry have decided that the best course of action is to cancel that morning's Masses and offer one Mass at 4:00pm the day before, Saturday, October 15th. We believe that this is the best, surest way to make the Eucharist as accessible as possible, given the circumstances.

This Sunday and Beyond
The Sunday and Beyond includes Father McQueen's reflection on the Sunday readings, the calendar and upcoming events
Visit Father McQueen's Sunday reflections Blog

Sunday's Solemn Mass bulletin, in PDF format.
9-18-2016- PENTECOST XVIII (Proper 20) SOLEMN MASS BULLETIN YR-C.pdf

Last Sunday's Solemn Mass bulletin, in PDF format.
9-11-2016- PENTECOST XVII (Proper 19) SOLEMN MASS BULLETIN YR-C.pdf



---

---

September Events


Grossmont College Chamber Music Concert
Sunday, September 18 at 2:00pm

Enjoy an afternoon concert by four leading members of the Grossmont musical family as they perform chamber music for voice, piano and violin. This unique concert event opens the 2016-2017 performance season of the Grossmont Symphony Orchestral & Master Chorale. Featuring music faculty member Audra Nagby, in addition to GSO concertmaster, Ondrej Lewit, plus baritone, Michael Sokol and pianist Irina Bendetsky; the concert includes music from Bach and Beethoven to Faure, Spohr, Wolf and more.

Admission: $10 General, $5 Student.



Sophie Webber, with Ines Irawati Concert
Wednesday, September 21 at noon

Sophie Webber, cellist, will be performing with Ines Irawati, piano at the Encinitas Library on Wednesday, September 21 at noon. Dr. Webber is no stranger to All Saints' parishioners as she has played the Voluntary on Sunday, March 13th and also gave a concert here on May 15th. Dr. Webber and Ms. Irawati will perform works by Schumann, De Falla, Bach, Liszt, and Paganini.

The concert is free.

More information at: www.sophiewebber.com or www.inesirawati.com




---




CHRISTIAN FORMATION


This week the class enters Part II of The Fulfillment of All Desire, which will focus on the second stage of spiritual growth. This is the stage where many mature Christians find stability and peace as they work to center their lives on God, but also where many begin to stall, for various reasons. As such, it's a great place to join our discussion and see how much more God has to offer and what keeps us from receiving it. For a copy of the book ($15) or the handout summarizing Part I, please see Fr. McQueen.





Blessing Bag Corner


At our next Blessing Bag event we will be filling 100 bags. Before then we are especially in need of the following travel-sized items: 88 mini-deodorants, 76 bottles of hair conditioner, 52 packages of Kleenex, 49 toothbrushes, 48 small dental floss packages and 25 combs. While we have ample granola and veggie bars, we could use more water, applesauce or raisins, crackers and peanuts.

Would you like to help set-up for our next event? Please contact Tamela Dreyer, Kay Phillips or Barbara Wilder. We welcome you and your participation to help those who are less fortunate, in need and/or homeless. Your thoughtfulness and giving spirit is very much appreciated.

In service,
All Saints' Social Action Committee





DONATE YOUR BOOKS/Magazines
TO A Worthy PROGRAM



Uptown Safe Haven, a part of Episcopal Community Services, provides housing and assistance to chronically homeless and mentally ill individuals in the city. Part of its mission is to create a home-like environment for their clients while they work on stabilizing themselves in order to eventually live independently in the community.

Many of their clients come from the streets or psychiatric facilities and are looking for healthy ways to improve their lives. As a program, they have created a library for clients to encourage reading as a healthy coping skill.

Please consider donating magazines and books to this most worthy cause. Any type of book or magazine is welcomed. There will be a box, so designated, in the rear of the church and in the Parish Hall to donate your literary contributions or bring them to the Parish Office.





From the All Saints' Concert Series - June 2016
St. Petersburg Men's Ensemble (Russian)



See the video also.
Photos by John Gray III





Trinity Sunday - May 22, 2016 pictures - Bishop's visit



Photos by John Gray III



ALL SAINTS' PRAYER CHAIN

We, at All Saints' Parish, have a long time tradition in our prayer chain. We feel that as we pray together and pass on our thoughts and prayers to God we deepen our relationship , not only with God, but with ourselves as his servants and parishioners. Please join us in keeping this time honored tradition continuing to help others see God and seek his help and blessings as we do. Call Lynette Blakney (call the office for her number.)

Prayer: The world's greatest wireless connection.





Sunday Morning Childcare

We are excited to announce that our nursery is now being staffed through Panda's Domestic Referral Agency, which provides childcare for many churches in San Diego. All sitters are childcare professionals that have undergone a national background check and are Infant and Child CPR Certified.





Special Offering on Second Sunday's loose plate

The loose plate collection on the Second Sunday of each month goes to the service of our community through the Parish Pastoral Needs Fund. Your generous contributions help us to serve members of All Saints' in need and our less fortunate neighbors as Christ serves us. Thank you for your continued help with this vital ministry.





All Saints' Action Committee Presents:

All Saints' Reading Group
Share your love of reading with others

Visit our neighbors at the various St. Paul's Senior Homes
Opportunities to read to residents in group and individual settings
Approximately 30 minutes per visit
Scheduling based on your availability, and the and needs of St. Paul's
6 month initial commitment
If you are interested in this exciting new way to connect with members of the community, contact: Joni Palumbo and Vanessa Brush throught the church office.




Want to be an Acolyte?

We have a pressing need for additional Acolytes in order to continue our worship in the manner to which we have all grown accustom. This is particularly true for the 10:30 Mass. If you are seeking an opportunity to serve and think that you might be interested in serving at the Altar, come by the Acolyte room before or after the service to learn what we do.