Follow us on Facebook
625 Pennsylvania Avenue
San Diego, California 92103
619.298.7729

For Directions and Parking click here.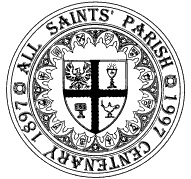 Rector:
Rev. J. D. McQueen.
Sunday Sermons

"For All The Saints" newsletter
October - November edition

Marian Societies
of All Saints


All Saints' Books for sale

Picture Page


All Saints Pre-School web site.




Sunday Solemn Mass bulletin, in PDF format.
25JAN15 EPIPHANY III SOLEMN MASS BULLETIN YR-B.pdf



SHORT NOTICES:



NURSERY/TODDLER ROOM OPEN SUNDAY'S
Staffed by All Saints' Preschool from 9:00am to 12:30pm.



BISHOP'S VISIT-NEXT SUNDAY:

Bishop Jim Mathes will be making his regular visitation to All Saints' next Sunday and it's our pleasure to have him as the celebrant and preacher for our Feast of the Presentation of our Lord. In addition to celebrating and preaching, the bishop always looks forward to the opportunity to share some of the things he's excited about from around the diocese and to simply enjoy our fellowship. Please plan to join us as you're able after each Mass to help welcome Bp. Mathes with our usual hospitality.





PARISH DIRECTORY PICTURES:

We recently had a Lifetouch photography event. If you elected to have your complimentary 8x10 sent back to the Church for pick up, your portraits are now available in the Parish Office.





2015 CALENDARS:

Please pick up your 2015 Calendars, courtesy of Merkley-Mitchell Mortuary, at the back of the Church or in the Parish Office.





BLESSING BAGS:

Join us in providing for those less fortunate by helping the Parish put together 35 Blessing Bags to provide to the homeless in Hillcrest.
We are requesting cash donations as well as the following items:
Toiletries (travel size) - shampoo, body wash, deodorant, mouthwash,
dental floss, hand sanitizer, Kleenex.
Gift Cards (small amt $5-$10) - Starbucks, Target, Albertsons, 7-Eleven,
Subway, etc.
Snacks & Sweets - candy, protein bars, nuts, crackers n' cheese,
crackers n' peanut butter, etc.
Plastic Ponchos (travel)
Please use the donation boxes at the back of the church to make your contribution. Please contact David Merry with any questions. Thank you in advance for your support of our outreach to San Diego's homeless population, many of whom are veterans of our Armed Forces.









Join our E-Mail list: E-mail to: outreach@allsaintschurch.org
and put in the subject line:"ADD ME."
We will periodically send information on special events and services.