Christ is Risen; Alleluia! The Lord has Risen indeed; Alleluia !


Follow us on Facebook
625 Pennsylvania Avenue
San Diego, California 92103
619.298.7729

For Directions and Parking click here.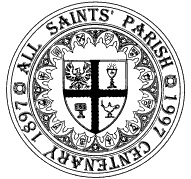 Sundays - Low Mass 8:00am; Solemn Mass 10:30am
Adult Christian Formation 9:15am
Sunday School 10:30am






"For All The Saints" Newsletter
Click here for April-May edition.

Sunday Solemn Mass bulletin, in PDF format.
5-24-2015 DAY OF PENTECOST (Whitsunday) SOLEMN MASS BULLETIN YR-B.pdf



CHRISTIAN FORMATION

THE GOSPEL OF MARK
Christian Formation continues this Sunday with a Bible study on the Gospel of Mark, the primary source for the gospel readings this year of our lectionary cycle. In this series we will look at the hidden themes St. Mark weaves together to paint a vivid, dynamic picture of Jesus, focusing on his miracles and divine Sonship. Please join us in the Fireside Room from 9:20 to 10:15am as we make special preparation for our journey through Ordinary Time.





THE 18TH ANNUAL ROCK 'n' ROLL MARATHON
The 18th Annual Rock 'n' Roll Marathon to Benefit the Leukemia & Lymphoma Society will return to our neighborhood on Sunday, May 31st.

Please pick up your ACCESS PASS at the back of the Church.
The following road closures will have a direct impact on access to the Church:
Sixth Ave: Elm to University
4:00am to 10:00am
University Ave: 5th to Park
5:00am to 8:15am
University Ave: 10th to Park
5:00am to 12:45pm
CR-163 (northbound): A St. to Friars
5:00am to 1:00pm.
CR-163 (4th Ave Off-ramp): Exit 1B
4:00am to 9:00am
Please plan accordingly and remember that we have parking privileges at Merkley-Mitchell Mortuary on Fifth Ave, which is only short walk to the Church.




Palm Sunday pictures




Maundy Thursday pictures





HOLY SMOKE:

Grab and friend (or fill a table with friends) and celebrate the work of ECS at our 4th Annual Holy Smoke event on Friday, June 12th at 6:30pm. We will enjoy a Celtic evening at St. David's (Clairemont) complete with a reception, dinner, music and entertainment, and a short annual meeting. Our speaker is U.S. Attorney Laura E. Duffy. Dress is casual, and tickets are $25 each. For more information or to purchase tickets, please visit the ECS website at www.ecscalifornia.org or contact Deann Ayer at 619.228.2800 or dayer@ecscalifornia.org. We hope to see you there!





EPISCOPAL NIGHT AT THE PADRES

EPISCOPAL NIGHT AT THE PADRES Looking for a fun summer outing? Come to Episcopal Night at the Padres! Friday, July 17th at 7:10pm at Petco Park. We'll be cheering on the Padres as they take on the Colorado Rockies.
Tickets:
$12 - Upper Reserved
$25 - Toyota Terrace
$63 - Skyline Patio
(Skyline includes food &drinks)
Please use the Sign-Up sheet on the back table of the Church to express your interest. You will be contacted nearer the date with further details and to arrange payment.





VACATION BIBLE SCHOOL:

St. Paul's Cathedral is in the initial stages of planning Vacation Bible School/Camp Spirit 2015. We are planning VBS for kids ages 4-10, to be held the week of August 17-21, 9am-3pm daily. We will be expanding VBS to neighboring churches this year, offering your kids a chance to connect with new friends. The cost will be $75 per child, but scholarships are available if cost is prohibitive. We need your interest and support to offer this fantastic opportunity. Please let me know if you would like to be on the planning committee and/or donate your time one morning, afternoon or day during the VBS week. For more information or to register please contact Robin Taylor, Director of Children, Youth & Family Ministries at 619-298-7261 ext. 345.





Pictures from the Bishops visit





BLESSING BAGS

The All Saints' Social Action Committee needs YOUR help! Join us on Sunday, June 14th between the services (at 9:15) to help fill BLESSING BAGS that we can distribute to those in need in our community. Our goal is to fill 100 BAGS! We also need help with donations (items listed below or financial donations), which can be dropped off at the church anytime between now and 6/14.
GENERAL ITEMS
Contractor Bags (Home Depot)
Ziploc Bags (1 qt)
Small Disposable Plastic Containers
Safety Pins
HYGEINE ITEMS (travel size)
Shampoo
Mouthwash
Soap/hand lotion
Facial Tissues/Wet wipes
Sunscreen
Deodorant
FOOD ITEMS (individually wrapped)
Packs of crackers (cheese/PB)
Fruit Pouches/Applesauce pouches (COSTCO)
Trail Mix/Nuts
Water Bottles









Join our E-Mail list: E-mail to: outreach@allsaintschurch.org
and put in the subject line:"ADD ME."
We will periodically send information on special events and services.