Follow us on Facebook
625 Pennsylvania Avenue
San Diego, California 92103
619.298.7729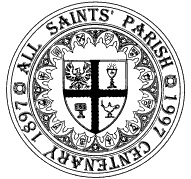 Sundays - Low Mass 8:00am; Solemn Mass 10:30am
Sunday School 10:30am Child Care at 8am and 10:30am Services
This week's calendar





This Sunday and Beyond
Our weekly blog reflecting on the Sunday readings.

Sunday's Solemn Mass bulletin, in PDF format.


2-24-2019-EPIPHANY 7 ~ SOLEMN MASS BULLETIN YR-C.pdf



Last Sunday's bulletin, in PDF format.
2-17-2019-EPIPHANY 6 ~ SOLEMN MASS BULLETIN YR-C.pdf


---

Societies of Mary



All are invited to join the Societies of Mary for their monthly day of devotion on Saturday, March 2.

We will begin in the Chapel with Rosary at 11:00am and Mass to follow at 11:30am. After mass we will adjourn to the Parish Hall for a potluck lunch. Father Eaton will be the celebrant and join the gathering for lunch.

Last names beginning with:
A-G Please bring a SALAD
H-M Please bring an ENTRÉE
N-Z Please bring a DESSERT





---

Lent 2019

Ash Wednesday Masses
March 6th

7:00am Mass with Imposition of Ashes

12:10pm Mass with Imposition of Ashes

7:00pm Solemn Mass with Imposition of Ashes

Stations of the Cross March 8th — April 12th

Wednesdays at noon

Fridays at 6:15pm

LENTEN PARISH STUDIES

Sunday evenings

- Beginning March 10th

Evensong at 5:15pm

(Except on March 31st Solemn Evensong and Benediction at 5:15pm)

Soup Supper at 5:45pm

Lenten Study at 6:15pm

"All in Prayer, and A Place for Everyone and Everyone in Their Place"

St. Paul provides an outline and even the details of how each member of the Body of Christ has a place, and that everyone in the Body of Christ should be IN their place for the Church to grow and be effective in ministry. On Sunday evenings we will look deeply into 1 Corinthians and a portion of Ephesians; we will have as our goal a preliminary understanding of our own ministries as provided by God, and some revelation of where these spiritual gifts are meant to be used.

Tuesdays After Noon Mass

- Beginning March 12th

"Why Luke in Lent"

On Tuesdays after the weekly Noon Mass, Fr. Eaton will lead a study on the Gospel lessons which will be read during Lent this year, all from the Gospel of Luke. The class will begin with a general overview of Luke, but with those Gospel readings in mind, and then each week through Holy Week, will look specifically at each of the Luke readings to find why these were chosen for our Lenten hearing.

Please consider bringing soup or bread or dessert to our Sunday Soup Suppers during Lent. A sign-up sheet will be available during both coffee hours starting Sunday, February 24.





---

Social Action Committee Project

We will continue to partner with Scripps Mercy Hospital on 5th Ave. to provide clothing items for impoverished and homeless individuals who are seen in the Emergency Room. Fall and winter items along with t-shirts and socks are needed on an ongoing basis. Many times, the clothes that folks were wearing when they arrived at the ER are not suitable to be worn at discharge.

Your participation in this ministry is invaluable. Not sure where to purchase your sweats and clothing items? Walmart, Target, Costco and Amazon have reasonably priced clothing in stock. Monetary donations are always welcome. (There are envelopes on the back table)

Our NEW Donation Drive runs through March 2019. The SAC will schedule a time to drop-off our items in early April.

In Service,

All Saints Social Action Committee

Tamela Dreyer, Barbara Wilder, Kay Phillips, Lynette Blakney

---

MEMORIAL GARDEN NEWS

As you can see from the photo on the next page, our smiling Victor and the bountiful rains are keeping our garden blooming and thriving! We are entering a new phase for the garden; that of making a wish list of plants and projects we wish to complete. Also, please do not plant any new plants in the garden as there is a method to our madness for what we wish to have growing there. We want plants that can be used for the altar and plants that are drought tolerant. We do not wish plants that are potentially hazardous to children or adults. (Some one planted four fire stick plants in the garden and they are quite toxic. They have been removed.)

Our wish list thus far is as follows (if questions, contact Sue Johnston):

· 5 gallon plants (Armstrong guarantees plants for life!)

· Ideas for painting or decorating white brick wall

· An arch with climbing rose or mandevilla at entry gate

· A curved wooden teak bench for alcove behind olive tree

· A fern garden where wicker furniture is placed (in planter)

· Combination locks for all gates leading into breezeway allowing better garden access for all




---

Book Published

Todd Muffatti, member of our Vestry, has just published a book titled "Creative Successful Set Designs." Filled with dozens of photos, illustrations and technical diagrams, the book guides theater teachers through the preparation and design steps necessary to build an appropriate and effective stage set. Using his 40-year career as a professional set designer and university professor Todd shares tips from his creative process and offers practical ideas about how to approach and accomplish imaginative set designs for High School, Jr. College, and little Theater Groups . His book is available from

www.atlantic-pub.com

. and in the Parish Office for your perusal.

---

Special Gift For All Saints'

The "Apostolic Succession" painting (western icon style) is given to All Saints' by Kathryn Dreyer, and has been a collaborated effort with Fr. Eaton. It will be blessed today during the second Mass, and hang above the Bishop's chair in the sanctuary. The imagery is built upon Ephesians 3:7-10. To interpret Fr. Eaton's wishes, he wanted Jesus sitting as on a grape vine with its branches symbolizing the blessing of the Apostles and its roots resting on the head and shoulders of the Bishop. This painting has been an honor to paint and a labor of love with considerable research and dedicated disciplines. "Apostolic Succession" is painted on Baltic birch wood with actual gold leaf, acrylic paints and salt. It has been a prayerful experience.




---

Pictures from Holy Week 2018






Photos by John Gray III





---





Parish life

Do you enjoy using your phone to take pictures of where you are? We're looking for photos of our parish life at All Saints': parishioners as they arrive for Mass, or after Mass as they congregate on the patio, or are in the Parish Hall enjoying fellowship during the coffee hour, or at all parish events such as upcoming All Saints' Sunday. If you do, please email your photos to Louise Lawson at:






ALL SAINTS' PRAYER CHAIN

We, at All Saints', have a long time tradition in our prayer chain. We feel that as we pray together and pass our thoughts and prayers to God that we deepen our relationship, not only to God, but ourselves as his servants.
Please consider joining the prayer chain ministry. Through prayer we can possibly make a difference in the lives of our Parish family and friends. Contact Edith Thrumston.

Prayer: The world's greatest wireless connection.





Sunday Morning Childcare

We are excited to announce that our nursery is now being staffed through Panda's Domestic Referral Agency, which provides childcare for many churches in San Diego. All sitters are childcare professionals that have undergone a national background check and are Infant and Child CPR Certified.





Want to be an Acolyte?

We have a pressing need for additional Acolytes in order to continue our worship in the manner to which we have all grown accustom. This is particularly true for the 10:30 Mass. If you are seeking an opportunity to serve and think that you might be interested in serving at the Altar, come by the Acolyte room before or after the service to learn what we do.