Follow us on Facebook
625 Pennsylvania Avenue
San Diego, California 92103
619.298.7729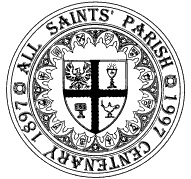 This Sunday and Beyond
Our weekly blog reflecting on the Sunday readings.



Sunday's Solemn Mass bulletin, in PDF format.


2-18-2018-THE FIRST SUNDAY IN LENT SOLEMN MASS BULLETIN YR-B.pdf

Last Sunday's bulletin, in PDF format.
2-11-2018-Last Sunday after the Epiphany SOLEMN MASS BULLETIN YR-B.pdf




---

All Saints' Judy Borchert

With heavy hearts we announce the passing of Judy Borchert this morning, Friday February 16. Please keep her two sons, Eric and Fritz and all her family in your prayers.

Judy was a woman who emanated boundless energy and spiritual strength and faith throughout her life. She always made the time to go the extra mile no matter what obstacles the course placed in her path. Her intelligence and perception were balanced with a great laugh, sense of humor and caring nature. She worked tirelessly in the background and forefront of All Saints' often accompanied by "Ouzi" (sp?) her doxie. She always made light of her many accomplishments and set an example that I shall always look up to and admire.




---

IN REMEMBRACE

Irene Spellman, a long time member of All Saints' passed away on February 1st 2018. Many parishioners will remember her singing in All Saints' choir for many years. Music was an important part of her life.

A viewing will be held at the church on Saturday, February 17th at 10am followed by a Mass at noon, Following the Mass a luncheon will be held in the Parish Hall.




---

Lent Services

STATIONS OF THE CROSS

· - Wednesdays at noon - Fridays at 6:15 pm

- Starting on Friday, February 16th through Friday, March 23rd.

EVENING PRAYER, SOUP and STUDY

Join us on Sunday evenings (February 18th through March 18) for evening prayer, soup and study in the Parish Hall at 5:15 pm. Our study will be "Saints Alive", written by Bryan Green who was a famous Church of England priest through his preaching and teaching on the life of the church development especially as an evangelist.

Father Eaton shared with those attending the annual meeting and it is in his newsletter message this month as well ( see page 1) that his sense of All Saints' Parish is that there is a great need for a full understanding of Fellowship. It is a widely encompassing subject. Reading and discussion of Bryan Green's book "Saints Alive" will help those who attend and thus the parish as well.

The first 2 chapters of the book are available

HERE

for you to read online, download or print. There are also copies available on the front and back tables.

Please call the Parish Office or see Louise at the 10:30am coffee hour to sign up for bringing soup and/or bread for one of the five Sundays — Feb. 18, 25; March 4, 11, 18.

We look forward to your joining us for prayer, study and fellowship.

LENTEN MEDITATIONS

Fr. Eaton suggests either of these 2 on-line free sources for your daily Lenten meditations.

http://tcfchurch.org/477

(Journey to the Cross)

or

https://www.bible.com/reading-plans/83-lent-for-everyone

(Lent for Everyone by Tom Wright)




---




Bach Collegium San Diego Presents
Soundscape -- Musical Architects of the Baroque

All Saints' welcomes The Bach Collegium on Friday, March 2 at 7:30pm for a concert of works by J. S. Bach, Monteverdi, Scarlatti and Schütz.

A collection of vocal masterpieces displaying exceptional musical architecture, centering on Domenico Scarlatti's Stabat Mater, a work displaying grandeur and a depth of expression, and Bach's supremely crafted motet Jesu, meine Freude. An ensemble of 10 singers and basso continuo, led by guest conductor Scott Allen Jarrett, brings this exciting program to life.

Domenico Scarlatti, Stabat Mater

J.S Bach, Jesu, meine Freude BWV 227

Claudio Monteverdi, Magnificat a 6

Heinrich Schütz, Die Himmel erzählen die Ehre Gottes

Schütz, Selig sind die Toten & Nunc Dimittis (from Musikalische Exequien)

Tickets are available at

bachcollegiumsd.org

or on the evening of the concert.

---

WillanWest 2018 Second service
February 24 at 7:00pm

On Saturday, February 24 at 7:00pm the second monthly celebration of the music of Healey Willan will be a Solemn Mass sung by the Willan Collective, Ruben Valenzuela, Director.

Willan West honors St. Matthias the Apostle whose saints' day is February 24 in the old Western calendar.

Missa Brevis no. 3 (F Major) is one of Willan's 14 Missa Breves, tailored and written specifically for the Gallery Choir of St. Mary Magdalene, Toronto. It is written in the 'sweet' key of F Major and displays Willan's typical mixture of polyphony and homophonic texture.

The motet O King to whom all things do live was written for the 1931 dedication of a memorial to the famous Canadian organist Lynwood Farnam at Christ Church Cathedral, Montreal. It was also sung at Willan's funeral at St. Mary Magdalene in 1968.

The Eucharistic motet Ave verum corpus first appeared as incidental music for Willan's Brébeuf (a 40 minute pageant commissioned by the Canadian Broadcasting Corporation in 1943).

For additional information about Healey Willan and the Healey Willan project visit willanwest.org or pick up a press release which is is on the back and front tables in the sanctuary. Bring your friends to listen to the beauty of Willan's music sung in a venue similar to the Church Of St. Mary Magdalene in Toronto.

"Music has been my chief delight, and if at any time I have been able to share this delight with others, I am content."





---

All Saints' to Host
Willan West 2018

WillanWest 2018 is a Southern California celebration of the Fiftieth Anniversary of the death of English-Canadian composer Healey Willan who served as organist and choirmaster at the Anglo-Catholic parish of St. Mary Magdalene in Toronto from 1921-1966. All Saints' was chosen to host this celebration as it is the only Episcopal parish in San Diego that has the potential to duplicate the environment of St. Mary Magdalene due to its traditional architecture and liturgy.

WillanWest choir under the direction of Ruben Valenzuela will hold 14 Saturday events at All Saints' – Mass, Evensong and Benediction at 7:00pm from January 2018 through November 2018. For additional information about Healey Willan and the Healey Willan project visit

willanwest.org

.

Click Here for more detailed Press Release.





---

Thespian Vanessa
Dinning Stars in Outside Mullingar

All Saints' choir alto section leader, Vanessa Dinning, plays the lead role of Rosemary Muldoon in John Patrick Shanley's Tony Award-nominated play Outside Mullingar. Anthony and Rosemary are two introverted misfits straddling 40. Full of dark humor and poetic prose, John Patrick Shanley's tender-hearted portrait reminds us that it is never too late to take a chance on love. Outside Mullingar premiered on Broadway in 2014. Vanessa is joined on stage by local San Diego favorites Jim Chovic, Dagmar Fields and Stephen Schmitz.

Scripps Ranch Theatre: January 19-February 18, then Oceanside Theatre Company: February 23-March 11 Playing Fridays & Saturdays at 8pm & Sundays at 2pm

Tickets for Scripps Ranch at:

http://www.scrippsranchtheatre.org/

Tickets for Oceanside at:

http://www.oceansidetheatre.org/





---

ESCAPE
Six Bach Suites for Solo Cello
CD Release

Sophie Webber, cellist, who has performed at All Saints' in concert and played her cello during a Sunday Mass is excited to announce the release of "Escape," her first CD recording of the Six Solo Cello Suites by J.S. Bach! For Sophie it has been a labour of love, and a humbling and inspiring journey. There is now a digital version available through CD Baby (with sample clips given for each track), iTunes, Spotify, Amazon etc.

"In other good news, my Escape Music Video was recently picked as a winner for the Southern California-based "Global Music Awards," in addition to receiving the "Best Classical Music Video" award at the Logcinema Music Festival in Miami, Florida, and being a Finalist at San Diego's "Music Video Extravaganza"!

Here is a music video preview of the Prelude from Suite No.1 (recorded here in San Diego in August).

ALL SAINTS' YOUTUBE CHANNEL

Have you seen All Saints' Church YouTube channel?

Here is a new video From Palm Sunday Created by Fr. Schuneman with the help of John Gray III.




---




Pictures from City Fest Welcoming August 13, 2017



Photos by John Gray III




---




Successful Art and Music Event

A wonderful time was had by parishioners, friends of All Saints' and neighbors at our Art & Music event last Sunday. Artists Todd Muffatti, Kathryn Dreyer, Troy and Teresa Lindemeier displayed and sold their artist creations under the courtyard trellis while BJ Robinson and friends filled the air with music from musical theater, jazz and opera.

Our thanks to the artists and musicians for giving their time and talent to this Sunday event. Picture by John Gray III. More pictures in the coming issue of our June/July newsletter.





Pictures from the Art & Music Event – May 21st



Photos by John Gray III




---




Pictures from Holy Week 2017




Photos by John Gray III




---

Pictures from the New City Sinfonia concert last Sunday - March 19, 2017



Photos by John Gray III




---





Parish life

Do you enjoy using your phone to take pictures of where you are? We're looking for photos of our parish life at All Saints': parishioners as they arrive for Mass, or after Mass as they congregate on the patio, or are in the Parish Hall enjoying fellowship during the coffee hour, or at all parish events such as upcoming All Saints' Sunday. If you do, please email your photos to Louise Lawson at:






Presentation of our Lord Sunday - Feb 5, 2017 pictures
Fr. Tony's 37th anniversary of his ordination



Photos by John Gray III




ALL SAINTS' PRAYER CHAIN

We, at All Saints', have a long time tradition in our prayer chain. We feel that as we pray together and pass our thoughts and prayers to God that we deepen our relationship, not only to God, but ourselves as his servants.
Please consider joining the prayer chain ministry. Through prayer we can possibly make a difference in the lives of our Parish family and friends. Contact Edith Thrumston.

Prayer: The world's greatest wireless connection.





Sunday Morning Childcare

We are excited to announce that our nursery is now being staffed through Panda's Domestic Referral Agency, which provides childcare for many churches in San Diego. All sitters are childcare professionals that have undergone a national background check and are Infant and Child CPR Certified.





Special Offering on Second Sunday's loose plate

The loose plate collection on the Second Sunday of each month goes to the service of our community through the Parish Pastoral Needs Fund. Your generous contributions help us to serve members of All Saints' in need and our less fortunate neighbors as Christ serves us. Thank you for your continued help with this vital ministry.





All Saints' Action Committee Presents:

All Saints' Reading Group
Share your love of reading with others

Visit our neighbors at the various St. Paul's Senior Homes
Opportunities to read to residents in group and individual settings
Approximately 30 minutes per visit
Scheduling based on your availability, and the and needs of St. Paul's
6 month initial commitment
If you are interested in this exciting new way to connect with members of the community, contact: Joni Palumbo and Vanessa Brush throught the church office.




Want to be an Acolyte?

We have a pressing need for additional Acolytes in order to continue our worship in the manner to which we have all grown accustom. This is particularly true for the 10:30 Mass. If you are seeking an opportunity to serve and think that you might be interested in serving at the Altar, come by the Acolyte room before or after the service to learn what we do.