Follow us on Facebook
625 Pennsylvania Avenue
San Diego, California 92103
619.298.7729

For Directions and Parking click here.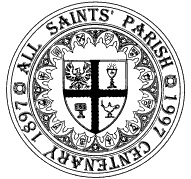 Rector:
Rev. J. D. McQueen.
Sunday Sermons

"For All The Saints" newsletter

Marian Societies
of All Saints


All Saints' Books for sale

Picture Page


All Saints Pre-School web site.





"For All The Saints" Newsletter
Click here for October - November edition.

Sunday Solemn Mass bulletin, in PDF format.
OCT27_2014SOLEMNMASSBULLETIN.pdf




SHORT NOTICES:

St. Mary's Chapel will be open for private prayer and devotion on Wednesday beginning at 4:30 PM. Followed by Evening Prayer at 6:30 PM.




SOCIETIES OF MARY -DATE CHANGE
Please note: The Societies of Mary normally have their monthly devotion on the First Saturday of the month. However, in November we will meet on the Second Saturday (8th).






CHRISTIAN FORMATION

Sunday Mornings 9:20am Fire Side room

SUNDAY AM CHRISTIAN FORMATION: It's impossible to describe how our relationship to God affects our hearts and our interactions with the world around us without words like "sin," "faith," and "salvation." Understanding these words can be tricky because the Bible isn't a textbook, where you can just look everything up in the back. Instead, Scripture is woven together so that the Old Testament teaches us what we need to know to understand what's really happening in the New Testament. For example, we learn about the nature of sin in Genesis and see faith in action in the life of Abraham. In the same way, the Book of Exodus is the best place to learn about salvation and it will be the focus for our Sunday morning Bible Study this fall. Please bring your Bibles and join us for The Gospel According to Moses!





Kitchen Remodel and Celebration Pictures





PILGRIMAGE TO THE HOLY LAND

Saturday, October 19th

PILGRIMAGE TO THE HOLY LAND:
UPDATE: If you are interested in participating in the 12-Day Holy Land Pilgrimage to Israel and Jordan at the beginning of June 2015 led by Dr. David Moseley, there will be an Information Meeting at 7:00 p.m. on Monday 27th October 2014 in the Parish Hall at St. Peter's Episcopal Church, Del Mar. (334 14th St, Del Mar, CA 92014) The trip is being developed in conjunction with George's International Tours (http://www.georgesintl.com/) who have been organizing tours to the Holy Land since 1931. Please RSVP to Dr. Moseley if you plan to attend the Information Meeting, or would like more details.





First Communion Pictures





Spearn Baptism Pictures




Join our E-Mail list: E-mail to: outreach@allsaintschurch.org
and put in the subject line:"ADD ME."
We will periodically send information on special events and services.