Follow us on Facebook
625 Pennsylvania Avenue
San Diego, California 92103
619.298.7729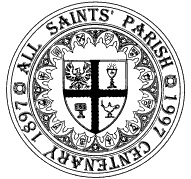 This Sunday and Beyond
Our weekly blog reflecting on the Sunday readings.

Sunday's Solemn Mass bulletin, in PDF format.


7-15-2018 ~ THE EIGHTH SUNDAY AFTER PENTECOSTi ~ SOLEMN MASS BULLETIN YR-B.pdf



Last Sunday's bulletin, in PDF format.
7-8-2018 ~ THE SEVENTH SUNDAY AFTER PENTECOSTi ~ SOLEMN MASS BULLETIN YR-B.pdf


---




All Saints' Church
Is Searching for a new Rector

Do you feel a calling to All Saints'?

Are you looking for a Parish and want to know more about All Saints'

Attached is our Parish.





---

79th General Convention
On Line

The General Convention of the Episcopal Church takes place next week in Austin. Our diocese will send eight deputies, those authorized to represent us, to the gathering to shape the policies, practices and budget of our church. This is the third of a series of updates about the convention. Learn about other deputies in future updates or on the

diocesan website.

To watch the proceedings live, visit the media

episcopalchurch.org/general-convention-2018-media-hub

Another source for Convention happenings is

Living Church.org





---

Sunday 29 July 2018 4:00pm at All Saints'
The Omnibus Duo - Homage to Giuliani

The Omnibus Duo was founded by Eric Dickerson, Bachelor of Music Performance from San Diego State University, in 2018. The Omnibus duo is committed to preserving music from the Renaissance, Baroque, Classical and Romantic eras on historical instruments. For their July 29th concert, the Omnibus Duo will pay tribute to guitar virtuoso Mauro Giuliani, in celebration of his 237th birthday. Giuliani was highly regarded as the world's best Romantic guitar player, during the 19th century. His contemporaries hailed him as the "Beethoven of the Guitar."

Eric Dickerson and Ian Lawrence will be performing on fully restored 19th century guitars by master luthier Paul Janssen in the Netherlands.

Here's the link to the video with a sample their musical artistry

https://www.youtube.com/watch?v=fcpJ6QMWa4A





---

Social Action Committee T-Shirt and Sock Drive

We invite you to join us in All Saints' Spring Sock and T-Shirt Donation Drive to benefit people in need in our community. We are teaming up with Scripps Mercy Hospital on 5th Ave. to provide clothing items for impoverished and homeless individuals who are seen in the Emergency Room. Many times the clothes that folks were wearing when they arrived at the ER are not suitable to be worn at discharge.

Not sure where to purchase your socks and t-shirts? Dollar Tree, Walmart, Michael's, Target and Costco have reasonably priced clothing and socks in stock. Monetary donations are always welcome (there are envelopes on the back table).

Your contributions have filled one box and we are looking to fill a second one. Keep those t-shirts and socks coming. We're hoping to fill several boxes before the end of June.

Our Donation Drive runs through June 2018. The SAC will schedule a time to drop-off our items at Scripps in early July. If you want to help with the delivery, please talk with any of your SAC members.

In Service,
All Saints Social Action Committee
Tamela Dreyer, Barbara Wilder, Kay Phillips, Lynette Blakney.



---

SATURDAY 28 July 2018 at 7PM
Mass of St. Mary
All Saints' Hosts WillanWest 2018

The July Mass of St. Mary features one of Willan's most unique masses, Missa Brevis no.6 (c. 1935) based upon chorales of J.S. Bach for each corresponding movement.

For this mass, Willan chose the appropriate chorales to adapt, namely Heilig, Heilig for the Sanctus, and O Lamm Gottes for the Agnus Dei, etc. Willan's rarely performed carol for unaccompanied women's voices Regina Coeli laetare from 1928 will be included as a carol in honor of the Virgin Mary.

We will have Kathryn Bunch's Book Table in the Parish Hall before and after the Willan Concert in July She has collected titles relating to music in the Episcopal Church, that of Anglican and Gregorian chant, as well as biographical works regarding Healy Willan and his influence on Episcopal Church music. She will have lots of other books and items for sale as well.

Come with a friend and/or friends and enjoy the beauty Willan sacred choral works.

For additional information about Healey Willan and the HealeyWillan project visit

willanwest.org

.





---

ALL SAINTS' BELLS
BELLS and More BELLS

The Bell Tower Bells The software for providing a simulated ringing of Bell Tower bells has been re-installed. The neighborhood around the parish church is now hearing a typical quarter hour chiming, plus the tolling for the hour, and one verse of a hymn, or a pealing. Eventually, we will program our own selection of hymn or chant tunes, and set it for half hour chiming, and have it sound from 8am to 8pm (that should keep insomniac neighbors happier). Thanks to (Senior Warden) George Dreyer for getting it back up and working.





---

Pictures from Holy Week 2018






Photos by John Gray III





---

All Saints' to Host
Willan West 2018

WillanWest 2018 is a Southern California celebration of the Fiftieth Anniversary of the death of English-Canadian composer Healey Willan who served as organist and choirmaster at the Anglo-Catholic parish of St. Mary Magdalene in Toronto from 1921-1966. All Saints' was chosen to host this celebration as it is the only Episcopal parish in San Diego that has the potential to duplicate the environment of St. Mary Magdalene due to its traditional architecture and liturgy.

WillanWest choir under the direction of Ruben Valenzuela will hold 14 Saturday events at All Saints' – Mass, Evensong and Benediction at 7:00pm from January 2018 through November 2018. For additional information about Healey Willan and the Healey Willan project visit

willanwest.org

.

Click Here for more detailed Press Release.

Would You Like to Help?

An anonymous donor has offered to match contributions of up to $1000 in support of All Saints' role in the Willan West program. If you would like to contribute to the matching fund, please send a check to All Saints' Episcopal Church, 625 Pennsylvania Ave., San Diego 92103, and note "Willan Fund" on the check or just drop it in the contribution plate! If you would like to attend the next Willan event as a greeter on behalf of the church, please let Louise Lawson know by calling the church office at 619-298-7729





---

Spphie Webber
Six Bach Suites for Solo Cello
Update

Here are the latest updates from Sophie Webber, cellist, who has performed at All Saints' in concert and played her cello during a Sunday Mass

She was thrilled to recently learn that ESCAPE: BACH'S SIX SUITES FOR SOLO CELLO was given a lovely and very flattering review in Gramophone magazine (June 2018 issue)! Here's an online version here:

https://www.gramophone.co.uk/review/js-bach-solo-cello-suites-webber-skoraczewski

Another very nice write up came from Jon Jacob in a review on his classical music blog, Thoroughly Good

https://www.thoroughlygood.me/2018/03/30/review-sophie-webber-plays-bach-cello-suites-on-escape/

More press reviews can be found on my EPK page under PRESS (https://www.sophiewebber.com/epk-1)

ESCAPE: BACH'S SIX SUITES FOR SOLO CELLO is also being aired on radio stations across the USA (including Southern California's Classical KUSC 91.5FM, Seattle's King FM 98.1, Iowa Public Radio, Tampa Bay (Florida)'s WUSF Public Media, Rochester (New York)'s WXXI Classical 91.5, North Carolina's WCPE The Classical Station 89.7 FM, Portland's All Classical 89.9 KQAC FM)

Other projects Sophie is currently working on include a recording of Bach Suite No.1 in G Major BWV1007 with chamber choir (singing an arrangement I wrote --minimal, highlighting harmonies and the interplay of consonance and dissonance). Martin Green, the Choral Director at St. Paul's Cathedral in San Diego (where I recorded Escape) has generously agreed to pioneer this project with me, and we will be meeting with the singers (handpicked from Martin's wonderful choirs at St. Paul's) in the next couple of weeks for an initial recording session of the Prelude from Suite No.1.

She is also working with a video artist to create another music video, this one featuring the Allemande from Suite No.6.

Sophie appreciates your interest and ongoing support

ALL SAINTS' YOUTUBE CHANNEL

Have you seen All Saints' Church YouTube channel?

Here is a new video From Palm Sunday Created by Fr. Schuneman with the help of John Gray III.




---




Pictures from Epiphany 2018



Photos by John Gray III




---




Pictures of Christmas 2017 flowers



Photos by John Gray III




---




Pictures from Christmas Eve 2017



Photos by John Gray III




---






Parish life

Do you enjoy using your phone to take pictures of where you are? We're looking for photos of our parish life at All Saints': parishioners as they arrive for Mass, or after Mass as they congregate on the patio, or are in the Parish Hall enjoying fellowship during the coffee hour, or at all parish events such as upcoming All Saints' Sunday. If you do, please email your photos to Louise Lawson at:






ALL SAINTS' PRAYER CHAIN

We, at All Saints', have a long time tradition in our prayer chain. We feel that as we pray together and pass our thoughts and prayers to God that we deepen our relationship, not only to God, but ourselves as his servants.
Please consider joining the prayer chain ministry. Through prayer we can possibly make a difference in the lives of our Parish family and friends. Contact Edith Thrumston.

Prayer: The world's greatest wireless connection.





Sunday Morning Childcare

We are excited to announce that our nursery is now being staffed through Panda's Domestic Referral Agency, which provides childcare for many churches in San Diego. All sitters are childcare professionals that have undergone a national background check and are Infant and Child CPR Certified.





Want to be an Acolyte?

We have a pressing need for additional Acolytes in order to continue our worship in the manner to which we have all grown accustom. This is particularly true for the 10:30 Mass. If you are seeking an opportunity to serve and think that you might be interested in serving at the Altar, come by the Acolyte room before or after the service to learn what we do.