Follow us on Facebook
625 Pennsylvania Avenue
San Diego, California 92103
619.298.7729

For Directions and Parking click here.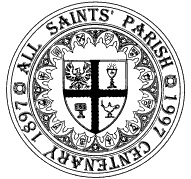 Sundays - Low Mass 8:00am; Solemn Mass 10:30am
Adult Christian Formation 9:20am Sunday School 10:30am
Child Care at 8:00am and 10:30am Services





This Sunday and Beyond
The Sunday and Beyond includes Father McQueen's reflection on the Sunday readings, the calendar and upcoming events
Visit Father McQueen's Sunday reflections Blog

Sunday's Solemn Mass bulletin, in PDF format.
10-23-2016- PENTECOST XXIII (Proper 25) SOLEMN MASS BULLETIN YR-C.pdf

Last Sunday's Solemn Mass bulletin, in PDF format.
10-16-2016- PENTECOST XXII (Proper 24) SOLEMN MASS BULLETIN YR-C.pdf



---

Parish life

Do you enjoy using your phone to take pictures of where you are? We're looking for photos of our parish life at All Saints': parishioners as they arrive for Mass, or after Mass as they congregate on the patio, or are in the Parish Hall enjoying fellowship during the coffee hour, or at all parish events such as upcoming All Saints' Sunday. If you do, please email your photos to Louise Lawson at:





REQUIEM MASS

A Requiem Mass will be celebrated for Dr. Pauline A. Wills/Rollins M.D. on Thursday, October 27th at 12:00pm. Dr. Wills practiced medicine in Gold River CA specializing in pediatrics. She is the daughter of Dorothy Wills and twin sister of Peter Rollins.

Please join the family in celebrating the life of Dr. Wills/Rollins.





Mary Maust Memorial

Along with her love for flowers, our beloved Mary also enjoyed stitchery and left many brand new stitchery kits, along with many supplies. As we celebrate All Saints' Day and Stewardship Sunday on Oct. 30, we will have a table of these items (and other gift items) for sale.

All proceeds will go toward additional benches and other needs for our patio in memory of Mary. This is a project she and Sue Johnston had been working on.

Please come and enjoy the many items available - and maybe start your Christmas shopping!!






---

October Events

All Saints' Sunday, October 30th
Single Mass at 9:30am
Followed by Brunch




On October 30 we will celebrate All Saints' Sunday with a Mass at 9:30am followed by our Annual Stewardship Brunch, catered by Ranch Event, back by popular demand. Come join us as we celebrate the many blessings of 2016 and look ahead to 2017.






---






September 25, 2016 pictures - Baptism of Isla



Photos by John Gray III



CHRISTIAN FORMATION



Part II of The Fulfillment of All Desire is aimed at building on the stability and peace that's characteristic of mature Christian faith. This week's discussion will be focused on how growing in freedom allows us to grow in virtue. For a copy of the book ($15) or the handout summarizing Part I, please see Fr. McQueen.





An Opportunity to Serve and Learn



The Flower Guild is recruiting new members who enjoy working with others in a fun-filled, creative atmosphere. We are planning a luncheon and an instructional class in flower arranging in the near future for members new and old. This will be great for those of us who never have had the benefit of actually learning from a professional! And, don't be intimidated as we "all do our own thing" as you can tell, from week to week. This commitment will be one Saturday per month (usually takes 2 hours max, start time is flexible) with the exception of Christmas and Easter. You would work with another seasoned member so don't be concerned about being on your own.

I have updated the Flower Calendar so that you will have no question about which color of flowers to use for any given Sunday and which Sunday is your scheduled Sunday. Also, I am putting together a quickie instruction guide so that you will know where to go and how to buy flowers, your responsibilities, etc. And, I am most always available for your questions or input. Looking forward to hearing from you whether you are a "flower person" or not!

Sue Johnston





Friend of All Saints'

Sophie Webber, cellist, has written us about her involvement in Edge of Shelter and Fused Muse Ensemble to help bring stories behind homelessness to light

Dear Friends,
I am writing to let you know about Fused Muse Ensemble's upcoming fall performances, entitled Edge of Shelter --dedicated to amplifying the voices of those who have or are currently experiencing homelessness through music and mixed media --and to ask you to consider making a small donation to our kickstarter campaign to help us forward our cause.



Edge of Shelter

is the culmination of two years' work dedicated to homelessness in Chicago. Each collaborative piece is led by the story/experience of an individual who has or is currently experiencing homelessness.



Fused Muse Ensemble

is an independent volunteer-based organization, and as its Founding Artistic Director, I am humbled and amazed at the generosity, passion, and high quality of work created by the ever-increasing number of individuals, artists and nonprofit organizations who are involved.

It would mean so much to me, and to the dozens of talented individuals involved, if you could help us in our work to bring these stories behind homelessness to light through the arts.

Below is a link to our campaign, with a video that gives a brief overview of Edge of Shelter, and a list of how each dollar will be used, along with a list of rewards as a small way of thanking our supporters. Currently, we have raised $820 of a total goal of $3050 and we have 11 days (of 30) until the campaign closes.

To learn more google
EDGE OF SHELTER KICKSTARTER CAMPAIGN

Thank you so much in advance for your support --whether through donating to our kickstarter campaign here, or just liking our facebook page! It all helps tremendously --we couldn't do what we do without you! THANK YOU!

With my best wishes --
Sophie

NOTE: If this endeavor—Shedding Light on Homelessness through Music and Mixed Media–is successful in Chicago, Sophie plans to develop this concept in San Diego





Blessing Bag Corner


At our next Blessing Bag event we will be filling 100 bags. Before then we are especially in need of the following travel-sized items: 88 mini-deodorants, 76 bottles of hair conditioner, 52 packages of Kleenex, 49 toothbrushes, 48 small dental floss packages and 25 combs. While we have ample granola and veggie bars, we could use more water, applesauce or raisins, crackers and peanuts.

Would you like to help set-up for our next event? Please contact Tamela Dreyer, Kay Phillips or Barbara Wilder. We welcome you and your participation to help those who are less fortunate, in need and/or homeless. Your thoughtfulness and giving spirit is very much appreciated.

Click here for a list of the above items to add to your grocery shopping list. Link to Fall Blessing Bag Shopping List attached above.

In service,
All Saints' Social Action Committee





From the All Saints' Concert Series - June 2016
St. Petersburg Men's Ensemble (Russian)



See the video also.
Photos by John Gray III





Trinity Sunday - May 22, 2016 pictures - Bishop's visit



Photos by John Gray III



ALL SAINTS' PRAYER CHAIN

We, at All Saints' Parish, have a long time tradition in our prayer chain. We feel that as we pray together and pass on our thoughts and prayers to God we deepen our relationship , not only with God, but with ourselves as his servants and parishioners. Please join us in keeping this time honored tradition continuing to help others see God and seek his help and blessings as we do. Call Lynette Blakney (call the office for her number.)

Prayer: The world's greatest wireless connection.





Sunday Morning Childcare

We are excited to announce that our nursery is now being staffed through Panda's Domestic Referral Agency, which provides childcare for many churches in San Diego. All sitters are childcare professionals that have undergone a national background check and are Infant and Child CPR Certified.





Special Offering on Second Sunday's loose plate

The loose plate collection on the Second Sunday of each month goes to the service of our community through the Parish Pastoral Needs Fund. Your generous contributions help us to serve members of All Saints' in need and our less fortunate neighbors as Christ serves us. Thank you for your continued help with this vital ministry.





All Saints' Action Committee Presents:

All Saints' Reading Group
Share your love of reading with others

Visit our neighbors at the various St. Paul's Senior Homes
Opportunities to read to residents in group and individual settings
Approximately 30 minutes per visit
Scheduling based on your availability, and the and needs of St. Paul's
6 month initial commitment
If you are interested in this exciting new way to connect with members of the community, contact: Joni Palumbo and Vanessa Brush throught the church office.




Want to be an Acolyte?

We have a pressing need for additional Acolytes in order to continue our worship in the manner to which we have all grown accustom. This is particularly true for the 10:30 Mass. If you are seeking an opportunity to serve and think that you might be interested in serving at the Altar, come by the Acolyte room before or after the service to learn what we do.