Follow us on Facebook
625 Pennsylvania Avenue
San Diego, California 92103
619.298.7729

For Directions and Parking click here.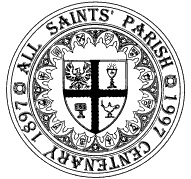 Rector:
Rev. J. D. McQueen.
Sunday Sermons

"For All The Saints" newsletter

Marian Societies
of All Saints


All Saints' Books for sale

Picture Page


All Saints Pre-School web site.





"For All The Saints" Newsletter
Click here for October - November edition.

Sunday Solemn Mass bulletin, in PDF format.
OCT12_2014SOLEMNMASSBULLETIN.pdf




SHORT NOTICES:

St. Mary's Chapel will be open for private prayer and devotion on Wednesday beginning at 4:30 PM. Followed by Evening Prayer at 6:30 PM.





ANNUAL STEWARDSHIP LUNCHEON:

Saturday, October 25th at noon

Please join us at Noon on Saturday, October 25th as we celebrate our extraordinary blessings at our Annual Stewardship Lunch catered by Phil's BBQ, During the lunch we'll recognize the many gifts bestowed on our Parish this year and in years past, as well as discuss all the ways that the future can be equally blessed. Please RSVP using the sign-up sheets in the back of the Church or in the Parish Hall or you may also email he church.





CHRISTIAN FORMATION

Sunday Mornings 9:20am Fire Side room

SUNDAY AM CHRISTIAN FORMATION: It's impossible to describe how our relationship to God affects our hearts and our interactions with the world around us without words like "sin," "faith," and "salvation." Understanding these words can be tricky because the Bible isn't a textbook, where you can just look everything up in the back. Instead, Scripture is woven together so that the Old Testament teaches us what we need to know to understand what's really happening in the New Testament. For example, we learn about the nature of sin in Genesis and see faith in action in the life of Abraham. In the same way, the Book of Exodus is the best place to learn about salvation and it will be the focus for our Sunday morning Bible Study this fall. Please bring your Bibles and join us for The Gospel According to Moses!





Kitchen Remodel and Celebration Pictures





PILGRIMAGE TO THE HOLY LAND

Saturday, October 19th

PILGRIMAGE TO THE HOLY LAND: Have you ever wanted to walk where Jesus walked, to visit the land sacred to three great faiths, the cradle of Christianity? Dr. David Moseley (St. Peter's, Del Mar) is planning a pilgrimage to Israel and Jordan in June 2015. The itinerary includes Galilee, Nazareth, Jerusalem, Bethlehem, the Dead Sea, Amman and Petra. Dr. Moseley teaches Religious Studies at The Bishop's School in La Jolla, was an adjunct faculty member in the Department of Theology at USD for 17 years, is a founding faculty member of the Diocesan School for Ministry, and a past Theologian-in-Residence at St. Paul's Cathedral. He has taught many Adult Education classes in parishes throughout the San Diego Diocese. David will be our Tour Guide, accompanied by a chaplain, and will also teach a series of classes in the Spring about the history, geography and culture of the land of the Bible. Estimated cost for the two-week itinerary (including flights, 4-star accommodations and local transport), plus pre-departure classes, is approximately $4,000 per person. If there is sufficient interest, an Information Meeting will be scheduled in October. If this is something you're interested in, please e-mail David at djsmoseley@aim.com.





First Communion Pictures





Spearn Baptism Pictures




Join our E-Mail list: E-mail to: outreach@allsaintschurch.org
and put in the subject line:"ADD ME."
We will periodically send information on special events and services.