Christ is Risen; Alleluia! The Lord has Risen indeed; Alleluia !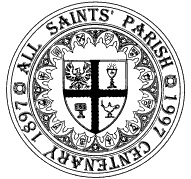 Rector:
Rev. J. D. McQueen.
Sunday Sermons

"For All The Saints" newsletter

Marian Societies
of All Saints


All Saints' Books for sale

High Mass at All Saints' Booklet

Picture Page


All Saints Pre-School web site.





"For All The Saints" Newsletter
Click here for February - March edition.




March:


Mar. 1 Society of Mary - 11:00 Rosary, 11:30 Mass, potluck to follow

Mar. 5 Ash Wednesday - Mass at 7:00 AM, 9:30 AM, 7:00 PM

Lent will have each week:
-- An additional daily Mass will be offered on Thursday at Noon
-- On Friday at 6:00 PM, Stations of the Cross will be offered,
with a Simple Supper and Reflection to follow.

Mar. 8 Parish Field Trip to Borrego Springs
Bus departs All Saints', 8:00 AM
Sally Wong-Avery is sponsoring a bus trip for parishioners to Borrego Springs to see the Sky Art sculptures of Ricardo Breceda, commissioned by the late Dennis Avery. There will be several stops along the way, including the Pine Hills Egg Ranch and the Julian Pie Company, and lunch will be provided at La Casa del Zorro in Borrego Springs. If you would like to join us, please sign up on the form provided at the entrances to the church.

Mar. 19 Feast of St. Joseph 9:30 AM Mass

Mar. 23 Parish Sunday Matinee Hawking, 1:00 PM
Dr. Stephen Hawking was a close friend of the late Dennis Avery and remains so with Sally Wong-Avery. During their last visit, Dr. Hawking gave Sally a copy of this documentary, Hawking, now airing on PBS. The documentary tells his extraordinary story in his ownwords and those closest to him. Please join us for lunch following the 10:30 AM Mass and then grab some popcorn and settle in for a 1:00 PM showing in the Parish Hall.

Mar. 25 Feast of the Annunciation Noon Mass



April:


Holy Week, April 13th - 20th Liturgical Schedule

Apr. 13 Palm Sunday
8:00 AM Low Mass
10:30 AM Solemn High Mass with Liturgy of the Palms

Apr. 15 Tuesday
Noon Low Mass

Apr. 16 Wednesday
9:30 AM Low Mass

Apr. 17 Maundy Thursday
Noon Low Mass
7:00 PM Solemn Mass with Foot-washing

Apr. 18 Good Friday
Noon Stations of the Cross
7:00 PM Good Friday Liturgy

Apr. 19 Holy Saturday
7:00 PM The Great Vigil of Easter - Solemn High Mass

Apr. 20 Easter
8:00 AM Low Mass
10:30 AM Solemn High Mass






Join our E-Mail list: E-mail to: outreach@allsaintschurch.org
and put in the subject line:"ADD ME."
We will periodically send information on special events and services.