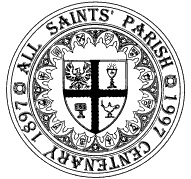 Rector:
Rev. J. D. McQueen.
Sunday Sermons

"For All The Saints" newsletter

Marian Societies
of All Saints


All Saints' Books for sale

High Mass at All Saints' Booklet

Picture Page


All Saints Pre-School web site.





"For All The Saints" Newsletter
Click here for April - May edition.




April:


Click here for Lily Memorial Flower form.


If you wish to sponsor a loved one with a memorial Easter Lily, please call the parish office (619) 298-7729 prior to Tuesday, 4-15-14, to order. You can sponsor and order via email, faxing or calling or even stopping by with a completed form. We have forms in the parish office, at both doors of the Church and at the above link.

Friday, Apr. 11
You are invited to attend Morning prayer this coming Friday, at 9am and Mass at 9:30am in the Chapel. Following that Mass we will begin making 250 palm crosses.

Saturday, Apr. 12
On Saturday morning, beginning at 9am, those interested can show up to help decorate the Church for Palm Sunday. This is always fun. Beginning at 10am, come for Morning Prayer with the Via Benedicti Group in the Chapel, plus enjoy the Bible study and potluck lunch to follow in the Parish Hall. At 1pm, the Via Benedicti Group will begin making the rest of the 250 needed palm crosses.

Holy Week, April 13th - 20th Liturgical Schedule

Click here for PDF version of the Holy Week schedule.

Apr. 13 Palm Sunday
8:00 AM Low Mass
10:30 AM Solemn High Mass with Liturgy of the Palms

Apr. 14 Monday
9:30 AM Low Mass

Apr. 15 Tuesday
10:30am - 11:30am Confessions in the Confessional
Noon Low Mass

Apr. 16 Wednesday
9:30 AM Low Mass
10:30am - 11:30am Confessions in the Confessional

Apr. 17 Maundy Thursday
Noon Low Mass
7:00 PM Solemn Mass with Foot-washing
Followed with the One Hour Watch in the Chapel until midnight

Apr. 18 Good Friday
Noon Stations of the Cross
7:00 PM Good Friday Liturgy

Apr. 19 Holy Saturday
7:00 PM The Great Vigil of Easter - Solemn High Mass
Followed by our Annual Chocolate Etc., Party

Apr. 20 Easter
8:00 AM Low Mass with hymns
Parish Fellowship
10:30 AM Solemn High Mass






Join our E-Mail list: E-mail to: outreach@allsaintschurch.org
and put in the subject line:"ADD ME."
We will periodically send information on special events and services.